Remembering Nora Ephron All Over Again
New York's literati turned out to remember the writer at the premiere of her son Jacob Bernstein's new documentary, Everything Is Copy.
---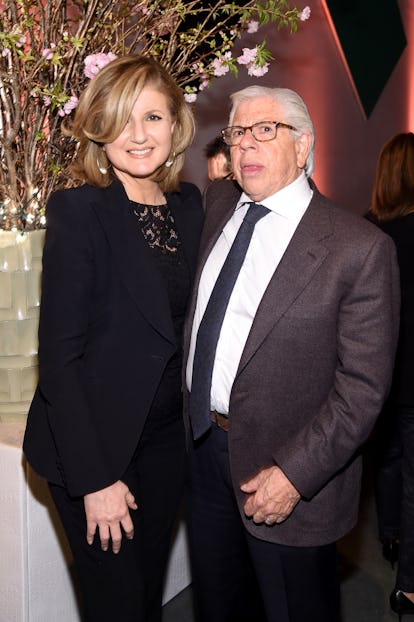 The death of Nora Ephron in 2012 was unexpected by everyone except herself and a few close cohorts—she battled leukemia in secret for six years before succumbing to complications from the disease. Within that inner circle was of course her son, Jacob Bernstein, a journalist at the New York Times and, with the release of his tribute to her Everything Is Copy on HBO next week, a newly-minted documentary filmmaker.
Tuesday night at the Museum of Modern Art, Bernstein screened the film for a wide-ranging crowd that spanned both his mother's social circle and his own. In other words, everyone from Calvin Trillin to Gawker writer Rich Juzwiak was there – Meg Ryan, Arianna Huffington, Mort Zuckerman, the actor Alan Cumming, and artist Marilyn Minter, who was handing out Planned Parenthood pins that she designed herself ("Don't F— With Us, Don't F— Without Us," the inscription read.) There was of course a healthy contingent from the Times and Vanity Fair, whose editor in chief Graydon Carter produced the documentary. Peggy Siegal, the publicist who was part of a regular lunch circle of Ephron's known as the Harpies, organized the screening and party.
"You almost feel that there's a downtown again," Bernstein said, scanning the group, "which there sort of isn't in New York anymore." Bernstein also noted something else has changed from Ephron's day.
"My mother managed to whack an enormous number of people in print which you can't really do anymore," he said. "You either play nice or you don't play, that's sort of the deal now. And she came up in this time where there was no velvet rope separating a reporter from a person they wanted to write about – it was a primitive New York, and she really made the most of that."
Yet as many of the commentators in the film noted, despite Ephron's cutting tone and ruthless journalism, her charm and humor meant people still desperately wanted her to like them.
Even her most spurned foes didn't stay away from the screening, including Carl Bernstein, Ephron's second husband and the subject of her wildly popular novel and film "Heartburn."
"I said I didn't want anything to do with [the documentary] until I saw a lot more of what [Jacob] intended to do," the older Bernstein said. "I was reluctant at first, partly because he didn't know where he wanted to go with it exactly. So there was a negotiation, and also he kicked my ass a little. Sons can be persuasive."
It also helped that where Bernstein went with the documentary wasn't all Sleepless in Seattle and You've Got Mail-levels of schmaltz. Instead, it explored the sticky space that Ephron occupied, as a writer, wife and mom. "The movie had to dance on this question of what it means to be a writer and to make the personal public and the public personal," he said. "It was an incredibly sad experience, but an incredibly sad experience that I wanted to tackle creatively."
Bernstein was motivated to take on the film after a piece in New York magazine by Frank Rich about Ephron's oddly private death. "And I did know, by the way, that if I didn't write about it quickly my aunt was going to write about it," said Bernstein said, referring to Delia Ephron, also a writer. "Part of why I think I didn't like it that Frank Rich wrote about was because he kind of got there before I did."
In other words, he'd been scooped. "I mean try not to make me sound like a total [expletive] when you write that I said that, but yes, one does have to be aware that there's power in moving quickly, whether you're writing about something personal or not," he said.
And what of his mother, how would she have judged the film? On this point, Bernstein became reflective.
"People ask, 'Was it intimidating to have a mother like that?' Yes it was in certain ways. It was intimidating enough that I knew that the movie needed not to be terrible," Bernstein said. If the response at the party was any indication, it was more than 'not terrible.' In fact, Ephron might have been proud.
Photos: Remembering Nora Ephron All Over Again
Jacob Bernstein and Meg Ryan.
Arianna Huffington and Carl Bernstein.
Zac Posen and Joan Juliet Buck.
Sheila Nevins and Paul Haggis.
Bill Bratton and Rikki Klieman.
Executive Producer Annabelle Dunne and director Griffin Dunne.