Nordstrom Pulls Moschino's Pill-Themed Collection Amidst Controversy
Moschino's capsule collection is generating more discussion about the opioid​ crisis than the presidential debate.
---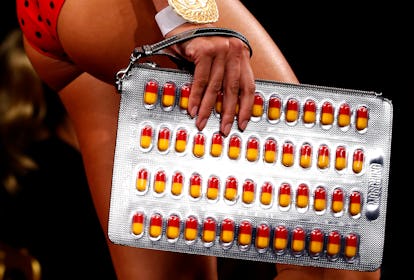 Getty Images
One might expect references to sex tapes at one of Jeremy Scott's cheeky shows for Moschino and discussions about the nation's raging opioid addiction epidemic at a presidential debate. Yet, somehow over this very strange weekend in this very strange year, those expectations were flipped.
Department store Nordstrom bowed to pressure from online activists and pulled a Moschino capsule collection that was inspired, quite literally, by capsule pills.
"We appreciate all the constructive feedback we received from concerned customers and ultimately decided to remove the collection from our site and the three stores where we offered it," said a company spokesman in a statement released to Fortune magazine.
Moschino debuted parts of the collection at it's Spring 2017 runway show in Milan. The pill-themed items were available immediately in stores with other similarly themed items, continuing a tradition of the house to mix in items from a "see now, buy now" collection with its main line. Past capsule collections revolved around themes like fast food, cigarettes and cleaning supplies. It's all very much in line with designer Jeremy Scott's practice of finding high fashion inspiration in the most mundane corner of the modern world.
Pills, marvels of modern medicine that they are, can be used to do everything from stifling a cough to treat depression or cure or treat illnesses that might have been death sentences just decades ago. The Moschino collection didn't really identify what type of medicine it was inspired by, other than they were capsules, not tablets. Though the fact the line debuted with Moschino's main paper doll-themed show lead many to assume the inspiration was Valley of the Dolls, a cult classic novel about woman hooked on stimulants, barbiturates, and sleeping pills.
Some, however, felt the collection glamorized one particular type of pill: opioids.
Many parts of America are in the midst of a worsening opioid epidemic. People who originally found themselves hooked on prescription painkillers are now increasingly turning to heroin to get their fix. 29,467 Americans died in 2014 due to overdoses of either heroin or painkillers.
"These accessory items you are choosing to market and sell to the public for profit, which include the Chain-Strap Prescription Bottle Bag and Printed Backpack, will most likely promote more drug use," wrote Randy Anderson, an alcohol and drug counselor from Minneapolis, in a Change.org petition. "Do you have any idea of the message your company is sending to those who have suffered the loss of a loved one due to a drug overdose? Have you not seen the countless number of media reports on overdose deaths from prescription pain medication, including the rock and roll icon Prince?"
With Nordstrom pulling the line, Anderson is now placing pressure on Saks to follow suit.
Perhaps Jeremy Scott deserves the benefit of the doubt. It's not like the pills in the collection were explicitly identified as opioids. And Moschino and Scott has trafficked in similarly taboo themes (see: cigarettes) to little controversy before. In fact, for his own eponymous line, Scott showed clothes covered in a pill print back in his Fall 2011 collection. A bag featuring that original pill print was also produced in collaboration with Longchamp. There was no controversy or petitions at the time.
But, hey, designers and fashion houses are free to put out whatever product they want (as long as they meet safety standards, we assume). People are free to find those designs controversial and organize a boycott. Department stores are free to either pull those collections or not (and if they feel their bottom line might be in some way threatened, they likely will). Customers are then free to buy those designs from other sources if they so wish.
Meanwhile, awareness is generated about the issue at hand, hopefully for better. Awareness is also generated, for better or worse, for the designer and product.
Though, it does seem particularly surreal that there has been more discussion in fashion publications about the opioid epidemic as of late than there has been in any of the presidential debates. Though, both candidates have made comments elsewhere during the campaign about the epidemic.
Hillary Clinton has an in-depth, detailed $10 billion plan to tackle the epidemic that places an emphasis on treatment.
Donald Trump meanwhile seems to think that his magical wall at the Mexican border will solve things. Which might make even less sense than banning a purse collection.