A New Home for the Novogratzes
Not many people would welcome a visitor--a reporter no less--to their home the day after they hosted a raucous party for 100 until 4am--let alone immediately offer to give them a full tour of the...
---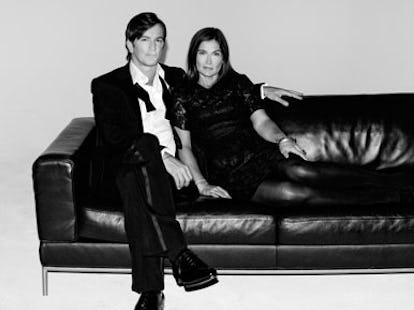 "[Bravo] wanted a little more drama than we were willing to give so I think it was best for us to move on," says Bob Novogratz. Sitting at their oversized kitchen table overlooking the West Side Highway, the couple jokes that if they had continued with Bravo they would have had to set the house on fire.
But they knew they wanted to stay on TV–the duo have a staggering number of projects in the works that need air time. There's the Novogratz for Stark line of paint, a line of rugs with Stark, a deal with Gilt Group, they're in talks with several home shopping networks, and are "very close to a huge retail deal." Not to mention spokesmen for Bing and Bounty paper towels. They're doing all of this while raising seven kids, and shooting 13 30-minute episodes. Not a small feat.
Though the kids are noticeably absent from the new show. "Reality television and teenagers don't really go hand-in-hand," says Bob referring to their now 13- and 14-year-old children. "So we really dodged a bullet with that one." And the format has also been HGTV'd–there's a new client and project in each episode, and…a budget. In one episode, it was 40 thousand to re-do an entire house in Far Rockaway New York. While this translated to fewer Zaha Hadid desks and less Ann Carrington art, the place still had the Novogratz stamp–bold colors (from their paint line), cool furniture and they managed to squeeze in graffiti art from Matt Siren and a surfer-cool collage from Click Gallery.
In the new season, they go from one extreme to another: from a Fred Segal boutique in Santa Monica to a New Jersey basement. Below, Courtney and Bob give W a sneak-peek at a project from one of their upcoming episodes–at an apartment for four models in Williamsburg, New York that needed some TLC:
Courtney: "Who once lived in a similar model apartment." Bob: "Which was funny because she was on the show too, so we called her the house mom and told the girls that she would always be watching them." Courtney: "We're all shopping at the same stores–the table is from CB2–so it's really hard to be unique and original. But by incorporating art or going to flea markets it's more of a reflection of who you are."
Bob: "We have a joke too: you see the apples? We got them food! We said, 'Let's see what models really eat,' and opened the fridge and there was nothing." Courtney: "Remember the one girl grabbed an apple and said, 'Can we eat this?' And we said, 'These are for you. Yes!'"
Catch the first episode of Home by Novogratz on July 16th at 10/9c.