Now, Nail Polish Colors For the Modern Dandy and Dandizette
Marc Jacobs' nail guru Jin Soon Choi debuts a new collection of unisex colors.
---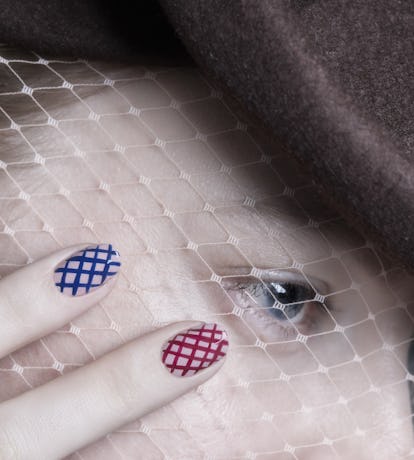 Gender play is increasingly in the air in fashion, even more so than usual – just this week Burberry unveiled a new campaign that takes as its inspiration Virginia Woolf's gender-bending protagonist Orlando. And now, even nail polish is getting in on the conversation.
Nail guru Jin Soon Choi, the woman to thank for Marc Jacobs' recent obsession with hashtag "male polish," is introducing a new collection of colors that caters to both men and women alike. Inspired by the 19th-century dandizette, or female dandy, the collection carries androgynous shades of blue and pink that very literally mix traditional gender associations.
"I consider a good number of my shades to be unisex, so in building this collection, I wasn't specifically catering to any particular group," said Choi. "I simply wanted to create a combination of a sophisticated, feminine, 19th-century-chic style and a modern androgynous look."
The collection, which is a total of five shades, includes cleverly-named colors like "Beau," a dark teal blue; "Moxy," which reflects the muted pink we've seen all over the runways recently; "Toff," a moody gray; "Heroine," which is a deep, dark purple ("Don't get any ideas!" said Choi of the name.) And finally, "Dandy" a blue purple, which Choi describes as "melancholy and hip."
In other words, not just gender-playful but Millennial-friendly.