Sin City
The number of sins I commit on any given day is too large to estimate. There was the slow runner I sort of side-swiped this morning on my third lap around the reservoir. That piece...
---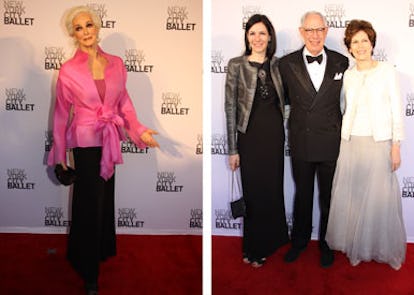 The number of sins I commit on any given day is too large to estimate. There was the slow runner I sort of side-swiped this morning on my third lap around the reservoir. That piece of chocolate I really didn't need to eat after lunch. Those extra few minutes I spent at the mirror (on multiple occasions) playing with my recently cut hair. Yes, I'm a little flawed and subject to temptation.
Then again, so are much of Manhattan's residents, certainly those who would attend a charity circuit event, thus it wasn't much of a non sequitur to treat the guests at the New York City Ballet's Spring Gala Wednesday night to the world premiere of Kurt Weill and Bertolt Brecht's "The Seven Deadly Sins," choreographed by Lynne Taylor-Corbett (the second part of the program was Balanchine's "Vienna Waltzes," a more virtuous counterpart).
Though I have to say, most of the attendees arriving that evening were rather demurely dressed given the ballet in question. Sarah Jessica Parker wore a long, lacey Valentino with long sleeves and a high neck. Actress Laura Benanti was in simple knee-length black, pocketed shift. And Coco Kopelman donned a summery white jacket and long dove grey skirt (Chanel, of course). Though she lost her daughter Jill Kargman on the way down the red carpet.
"She's in the tightest, long sample dress, she can barely walk," she explained.
"That's why I stopped cross-dressing," quipped her husband, Arie.
Oh if only they had been around when Betsey Johnson arrived, with date and assistant Stephanie in hand—literally.
The latter was dressed in a black, cut out dress with tattoos painted on her body (including the word Anger on her chest) and a collar around her neck, whose chain Johnson kept pulling on with mock force (I hope). When Stephanie started flashing the photographers her red underwear, the older women streaming into the David H. Koch Theatre looked on in disdain.
"That must be Gaga," said one lady, dismissively as she kept walking past.
"I was asked to do a sin. This is anger," explained Johnson after Stephanie was done with her antics. "And I am anger management. I don't know what anybody else has done."
Apparently, a good deal, considering they couldn't pick their favorite sins when asked.
"It's like asking me which child I prefer if I have seven children. I love them all and indulge in every one of them," said a Jackie Rogers clad Carmen dell'Orefice.
"They're all good," said Matthew Broderick as his wife posed for photos. "I like all of them. I like sloth a lot. It's lovely. And lust."
Fortunately they didn't have to choose during the performance, in which Patti LuPone sang while Wendy Whalen danced and worked her way through all seven of them. (I saw a few fashion sins myself during the intermission cocktails. Gentlemen in the matching paisley blazers cruising young women, I do wish you had rethought that.)
After the program, guests like Vanessa Williams, Fe Fendi, Maria-Cristina Anzola, Prince Dimitri of Yugoslavia, co-chair Clemence von Mueffling, Erin Fetherston and Yaz Hernandez were joined by dancers in their street clothes for a halibut dinner at black and white-striped tables under red canopies.
"You've got to see her shoes!" said one woman to her husband as they made their way in to the scene behind Brooke Shields in towering heels.
"Oh now I do. Oh, they're fabulous," he extolled, adding. "That takes practice."
I'm afraid I wasn't as in shape as Shields: when the dancing began as dessert was served, I quietly snuck out on the early side, feet aching. Forgive me party gods for I have sinned.
Photos: Mary Hilliard