Read & Resist: The Failures of NYC and LA's Police Budget Deals, Explained
From the theoretical racial reckoning on Wall Street to a rundown on police spending in U.S. cities, here's what to read today to stay informed.
---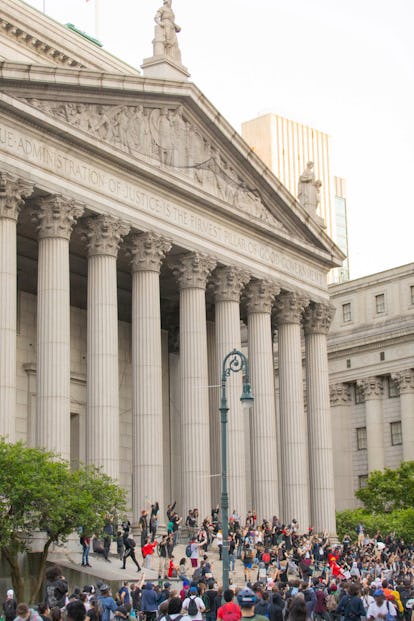 With so much of the national media treating federal politics like a constant horse race (or, worse, a reality show) and local newspapers continuing to erode, it's easy to forget that so many of the policies that affect our day-to-day lives are set on the state and local levels. State and local governments are, after all, (*seventh grade social studies teacher voice*) "the laboratories of democracy."
That's never been more true when it comes to charting a new path forward, past the failed status quo for America's police departments and criminal justice system—which was largely put in place in the '80s and '90s. Indeed, most city's budgets are absolutely dominated by police spending.
In the wake of the summer protests, America's two largest cities, Los Angeles and New York Cities, were due to already implement new budgets, setting up an immediate test. New York City officials promised to cut $1 billion from its $6 billion budget for the NYPD, but the budget that past this week achieved a good portion of the chunks that critics are calling a financial slight of hand (the budget for officers in schools was moved to the Department of Education). The New York Times put it bluntly by proclaiming it a "budget that pleases no one" in a headline.
Rep. Alexander Ocasio-Cortez roundly criticized the budget, leading New York's increasingly loathed-by-all-sides mayor Bill De Blassio to call her "flat out wrong." AOC, of course, pulled the reciepts on Twitter.
Meanwhile, council member Jimmy Van Brammer detailed exactly why he voted "no" on the budget on Twitter (if only all politicians regularly explained their votes to the public):
Meanwhile, the Los Angeles city council has agreed to cut around $150 million from its police budget and will reduce the number of officers. In a push led by Black students, that includes cutting $25 millions from a program that places officers in schools.
Though, as seen in New York, some of those cuts may just be more creative budgeting.
Of course, change doesn't just occur overnight. Such setbacks are the start of a conversation—one that will have to continue not only in New York and Los Angeles, but also in Dallas, and Atalanta, and Boston, and Miami, and Kalamazoo, and Poughkeepsie, and…
What To Read Today:
If there is one thing we're supposed to believe collectively in this country, it's that every vote matters. However, the Trump administration seems against any common-sense solutions to make voting easier in the midst of a pandemic, let alone fixing any of the existing instances of blatant and often racist voter suppression tactics that already exist. "Black voters, on average, wait 45 percent longer to vote than white voters; Latino voters wait 46 percent longer," writes Harris. "One study, from the American Civil Liberties Union of Florida, found that Black and Latino voters in Florida were more than two times as likely to have their mail-in ballots rejected as white voters—because of a mix of voter error and how the state processes ballots."
Two licensed social workers argue that their profession should not be seen as a supplement to police, but rather more necessary and primary in many cases. "Social workers address crises regularly and without an armed police officer standing in front of us," they write. "Often, the presence of an armed officer escalates a crisis that could have been better handled by mental health professionals alone. Criminalizing and escalating mental health episodes in particular is all too common. Nearly 15% of men and 30% of women booked into jails have a serious mental health condition. One in four people killed by the police have a mental health issue."
In a necessarily bluntly headlined essay, Lopez tackles the issue of racial fetishism presenting itself as allyship, particularly in the gay community. "There are references to these phallic protest posters all over Twitter," Lopez write. "I don't want to link the actual images so as not to spread them further, but they're easy to find. I can't recall seeing anything like them at past actions for Black life, perhaps because the sort of people who'd do this are those who are new to the movement."
Despite promises and diversity initiatives, leadership on Wall Street remains remarkably white and male. Does corporate-minded political reform work on Wall Street, let alone elsewhere?
"I was born to show yet another example: a dark-skinned Black trans woman can show you how she can raise the vibrational frequency of her life to do something great for this world. It's not specifically that anybody can do what I'm doing, but it is that anybody can fully blossom," says Pose and American Horror Story standout (and tech maven) Angelica Ross. "Whatever fragrance you're meant to bring into this world is what you're meant to bring into this world, and you have every opportunity to uproot yourself and replant yourself in an environment that is affirming to your growth."
News Reel:
Food For Thought:
Related: Beyoncé, Solange, and Tina Demand the Senate Give Us Safe Voting (and a Second Stimulus)