Nyima Ward Would Happily Trade Modeling for Marijuana Farming
The son of supermodel Trish Goff on his foray into modeling—and that time he and peed on Richard Avedon's studio.
---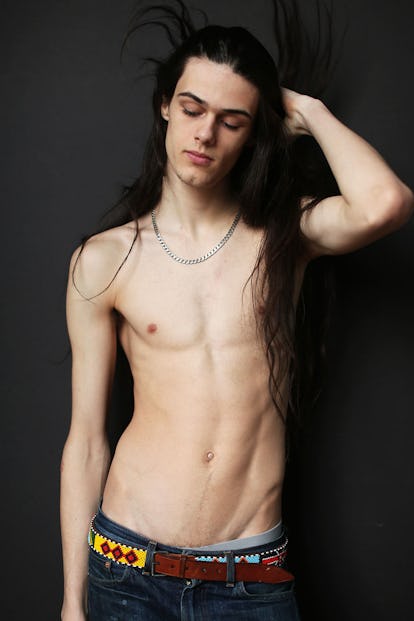 Photo courtesy Hadar Pitchon/DNA models.
Nyima Ward is not your typical fashion celebrity progeny. The son of 90's supermodel-turned-real-estate-agent Trish Goff and Aaron Ward, he has less than a thousand followers on Instagram, and he's not terribly interested in amassing more. Growing up, he didn't care much about fashion (though he did manage to pee on Richard Avedon's studio floor—more on that below). And his trajectory towards modeling went something like this: his mom's boyfriend David Bonnouvrier, owner of DNA Models, had been trying to "get [him] to sign forever." Ward replied, "Nah, nah." But then he turned 18 and presto: "I was like, 'Might as well try it.'"
With his waist-length hair—he gets it trimmed once a year—and long, lean frame and enviable cheek bones, Ward was clearly going to be a hit. But despite being a favorite of Steven Meisel and Bruce Weber and a runway star for Anna Sui and John Varvatos, the 20-year-old has maintained a genuinely down-to-earth air about his burgeoning modeling career. Here, he chats woodworking, marijuana farming, and Instagramming (or not, as the case may be).
How did you get into modeling?
Both of my parents were models. My dad did a few Calvin Klein campaigns back in the day. And my mom started dating David [Bonnouvrier, owner of] DNA [Models] and then they've just been trying to get me to sign forever and I was always like, "Nah, nah." And then I turned 18 and I was like, "Might as well try it."
Did your mom purposely want you to wait until you were older?
Yeah. And I just kind of grew up around it. I grew up traveling a lot, I didn't have a lot of consistency, I never stayed in the same school a lot, so she just wanted me to have time to chill and live a normal life for a while.
I assume you spent a lot of time on sets growing up.
That was more as a kid. Once I was 15 and started growing my hair out, I got sent to boarding school and I got really into skiing and extreme sports for a few years. I lived in Utah for two years. Coming from the East Coast, that was just amazing.
Were you into fashion growing up, just being around it?
Not really. I, like, knew who some people were and stuff. But my mom always tried to distance me from it a little bit and I just never cared too much growing up.
Did you have any desire to try modeling before your mom gave you permission?
Not really. I came back to the city a few years ago from the West and I was just kind of like, Why not give it a try, see what happens? And it turned out to be pretty fun. I'm just on request. I don't really go out on castings all the time. When I get a fun job, I'm like, Whatever.
You've worked with Steven Meisel quite a bit.
Yeah, yeah, definitely him. I've shot with Bruce [Weber]. Anything that Bill Mullen is styling, his stuff's always great. I love working with him.
Do you walk a lot of shows, too?
I did like two or three seasons of shows and it was pretty fun. But I work regular jobs, too, so for me to do the whole show week and everything doesn't really make sense.
What kind of regular jobs do you do?
Well, I'm really into carpentry. I do some of that work on the side. I was working with BDDW furniture for a while down in Soho on Crosby Street, they have a really nice showroom. I was working with them, trying to repair stuff clients send in. Kind of just doing some handiwork now, working at a few smoke shops. Doing that. I'm planning to go out to Rhode Island to start growing medical marijuana soon, actually. Get in on the gold rush.
Do you have friends out there?
I don't know anyone out there. Me and my girlfriend have just been looking at places online and it looks really cool and the laws out there are perfect for it. That would be awesome.
What is modeling for you, then? Not so much a career?
It's less a career and more just something on the side. I know a lot of the people in the industry so lots of time I'll get people that I knew growing up like, "Oh, can I shoot you?" Or something like that. Or my agents are like, "Oh, this would be really cool for you to do." And might as well. I don't really see it as a long-term career, definitely not.
What do you feel like you get out of it?
Definitely hoping for the occasional good money job, for sure. And it's nice for a good quick little check here and there. But umm, I don't know, it's fun sometimes. There's just a lot of fun shoots.
If somebody asked you what you did, would you consider yourself a model?
I would consider myself more a woodworker, honestly, than a model. When people ask me what I do, it almost slips my mind to even bring it up. But, I guess I am a model. [Though] I definitely don't picture myself in my brain as a model. I picture myself more as a nine-to-five. That's what I do more on a regular basis.
Are you on Instagram?
But I never post. My agents were like, "You need to get on Instagram. You can make, like, $4,000 a post" and all this stuff, but I don't know. I did it for a few months but it's just not my style.
What about it didn't jibe with you?
I started getting fan mail and people sending me drawings of myself and I was just like, This is a little too strange. I just wasn't into it. And it just took a lot of effort, the post a day for some likes. Or a few posts a day. I just wasn't into it.
Have you and your mom ever done a shoot together?
Definitely. We shot for American Vogue when I was 16 or 15. And we got a cool shot. she was in a really crazy dress and I was in a Ralph Lauren suit and we were both floating in the air. It was cool. We've shot a bunch of times when I was a kid, too.
Everyone wants a top model with her beautiful baby.
David constantly blackmails me with this photo that Richard Avedon shot of me when I was really tiny, like an infant. I was in his studio just running around like a naked baby and I just decided to pee on his studio and he took a picture of it. And we went on vacation once and I came out to brunch and [David] had the photo printed out on everyone's plate. He loves embarrassing me with that old baby pissing photo.
If they'd put a diaper on you, they wouldn't have had that situation.
Exactly what I said! It's always funny when I hear people talking about Richard Avedon on set and I'm like, "I got shot by him peeing on his studio when I was a baby."
6 Rising Male Models From Famous Families Share Their Pet Peeves: