October Release: Ryan Gosling & Michelle Williams
The His, Hers & Ours Issue, Ryan Gosling and Michelle Williams: Boy Meets Girl, On Set: 'Love and Other Drugs', Aaron Sorkin talks 'The Social Network' and his troubled past, Tim Walker shoots Karlie Kloss in Couture
---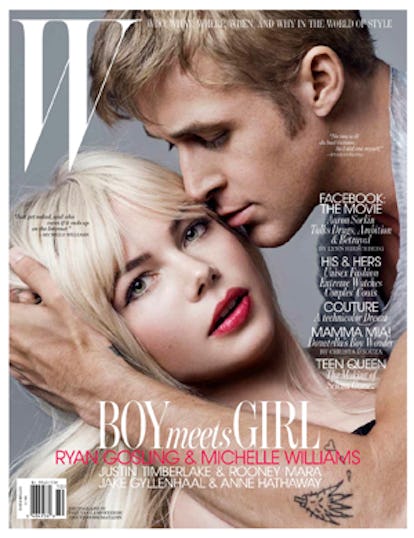 Highlights from the October issue of W magazine are below:
His, Hers & Ours–Page 56 (editor's letter): " October marks our first His-And-Hers issue, one of the many surprises we've promised to deliver in W's "year of firsts," says Editor in Chief, Stefano Tonchi. "Great photography and journalism can bridge the gender gap, and although women make up most of our readership, we want to invite men to join us too."
Boy Meets Girl–Page 120 (cover story): In the October issue of W magazine, Editor at Large Lynn Hirschberg talks with Michelle Williams and Ryan Gosling about messy sex, bad body art, and the long road to their new film, Blue Valentine:
Michelle Williams on being naked on camera: "I have the usual self-loathing and body issues, and yet I seem to be naked in a lot of movies. It would be really nice if the pictures did not get posted online. But then maybe that's a reason to do it: Just get naked, and who cares if it ends up on the Internet."
Ryan Gosling on the raw sex scene with Williams in Blue Valentine"In real life sex is messy, and we wanted to get under that wonderful messiness."
<strongMichelle Williams on landing Dawson's Creek: "I was so lucky to get Dawson's. I was auditioning for pilots twice a day. Auditioning for pilots taught me to change my clothes really fast. To this day I can get in and out of my bra and panties faster than anyone."
Ryan Gosling on his Canadian accent:"As a kid I decided that a Canadian accent doesn't sound tough. I thought guys should sound like Marlon Brando. So now I have a phony accent that I can't shake, so it's not phony anymore. I'm going for the Madonna thing, the Lady Gaga thing–a phony accent that becomes your trademark."
On Set: 'Love and Other Drugs'–Page 74 (Who): W gives us a sneak peak at the film that made a cinematic threesome of Jake Gyllenhaal, Anne Hathaway and director Edward Zwick. The movie, set in the late '90's, centers on a pharmaceutical salesman selling a new pill called Viagra. Gyllenhaal and Hathaway, often naked in the new film, "spend a certain amount of time having sex in various places," Zwick says of his stars.
Friending Aaron Sorkin–Page 120 (feature): In Mark Zuckerberg and the founding of Facebook, Aaron Sorkin, the screenwriter behind 'The Social Network,' discovered a subject as compulsive and complicated as he is. The lead actors in the film– Jesse Eisenberg, Justin Timberlake, Armie Hammer and star of the upcoming 'Girl With The Dragon Tattoo', Rooney Mara–are featured in photo portfolio by Platon, who makes his W debut this October.
Where Troubles Melt Like Lemon Drops–Page 128 (fashion feature): Photographer Tim Walker takes Haute Couture to a wonderfully wicked place this October. Stylist Jacob K and the beautiful Karlie Kloss take center stage in a fairytale collection of organza, taffeta and tulle.
The October of W magazine is on newsstands nationwide September 21st. For additional information or to schedule an interview, please contact Caroline Andoscia, 212-630-3952 or caroline_andoscia@condenast.com or Caitlyn Carpanzano, 212-286-2885 or caitlyn_carpanzano@condenast.com.