Oh Mandy! We love your new wine bar
Having spent the last six years as the right hand woman of Le Bernardin chef-owner Eric Ripert, Mandy Oser, 33, might just be the most well-prepared rookie restauranteur in town. Along with a group of...
---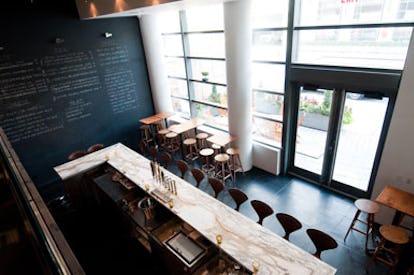 This space is really dramatic, with a double height wine wall. How did you approach the design? I asked a dear friend of mine, Mimi Madigan, who is an architect, whether she had any advice for us in our search for a designer and she said, "Can I throw my hat into the ring?" She ended up doing it as side project from her main job, which is working with Annabelle Seldorf. Like it is for me, this is her first independent project.
Speaking of day jobs, you haven't given up yours. How are you balancing Ardesia with your position at Le Bernardin? I took a couple weeks off to get things up and running. Moving forward there are other partners involved so we'll sort of be balancing it that way.
Has Chef Ripert been supportive? He's been really helpful. He and Maguy (Le Coze, co-owner of Le Bernardin) are a constant source of inspiration for me. In practical terms, the way they manage the team at Le Bernardin has been a great lesson. In Eric's book On The Line there's a list of 129 cardinal sins that a server should avoid and that just sort of rattles in the back of my mind all the time.
Tell us about the food. Our chef, Amorette Casaus, came from [Chelsea tapas bar] El Quinto Pino and trained earlier in her career under Gray Kunz. We sort of conceived the menu as a collection of our favorite things to eat while drinking so we have homemade New York style soft pretzels, house cured charcuterie and ice cream sandwiches with a really thick cookie crust.
What are some of your favorite wine bars in the city? I love Tia Pol, Terroir and Sorella, this little restaurant that two women opened on the Lower East Side.
How did you get into the restaurant industry? After college, I moved to DC and worked as a junior aid for Senator Robert Toricelli. Then I worked at a law firm focusing on international trade — pretty soon I was bored to death. On the side I was working at a little bistro in my neighborhood and I realized I liked it more than my day job. My best friend, who worked for City Harvest at the time, heard that Eric was hiring and said "Why don't you try it?" I didn't even know who Eric was but I thought "What the hell?" That was over six years ago.
Do you see any similarities between the restaurant world and the political world? Definitely. It's very dynamic in the way that politics is, always changing, always something new. And in terms of how it's organized, the Le Bernardin office is not dissimilar from a senate office only instead of a press secretary, a scheduler, a legislative director and all that, there's just me. I'm a chief of staff of one!
Ardesia, 510 West 52nd St, New York, NY