Olivia Munn Says She Feels "Isolated" After Fighting to Have a Registered Sex Offender Removed From The Predator
She fought to have a scene featuring a registered sex offender removed from the film.
---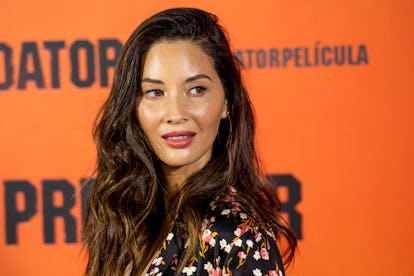 Juan Naharro Gimenez/Getty Images
Last Thursday, just a week before the scheduled theatrical release of The Predator, starring Olivia Munn, Trevante Rhodes, and Keegan-Michael Key, The Los Angeles Times published a report describing how a full scene had been cut from the film late in post-production after word spread that an actor featured in the scene is a registered sex offender. Munn reportedly led the charge to have Steven Wilder Striegel removed from the sci-fi film. Per the Times, after Munn learned in mid-August that Striegel pleaded guilty to and served jail time for attempting to lure a minor into a sexual relationship through the Internet in 2010, and has since been listed on the sex offender registry, she relayed the information to 20th Century Fox, which soon made the decision to cut Striegel's scene.
Since news broke of Striegel's exclusion from the movie, Munn has continued to be outspoken about the cast and crew's handling of the situation. In an interview with Vanity Fair on Saturday, she described feeling alone among her coworkers, none of whom, she said, had reached out to her in the wake of the controversy. (VF later updated the story to say that at least one costar had reached out to her; Key claimed in a statement to VF that he had "reached out to Olivia privately"; fellow cast member Sterling K. Brown penned several tweets over the weekend apologizing to Munn and praising her for "taking action.")
"I kind of feel like I'm the one going to jail," Munn told VF. "I didn't go to jail, I didn't put this guy on our set. I had this scene deleted. Thank God, honestly, that there is social media. It's the fans and news outlets that's confirming it to me that what I did was the right thing. If I didn't have that feedback, I'd kind of go a little crazy thinking, 'Why am I being treated like this?' That's not O.K., to feel like the bad guy." Munn continued, "Getting a convicted sex offender out of a movie that has global reach is extremely important, but the reality of what I've had to go through in this process of just finding out, it's a crazy thing. It's like I stumbled upon something and now I'm being chased by everyone and isolated."
She noted that she was especially disappointed when some of her castmates gave director Shane Black (who admitted, in a statement to the Times, to knowing about his friend Striegel's conviction before casting him in The Predator) a standing ovation at the film's Toronto Film Festival premiere last Thursday. "I looked back and I see the guys standing up, and I was just confused, because I hadn't heard from them during the day. Everybody else was sitting down — it wasn't like this massive standing ovation for him. I felt it was still appropriate to clap and cheer, but to actually make that gesture to stand up, especially in this moment…and privately I knew that no one reached out to me to say, 'Are you O.K.?' It did feel bad," said Munn, who also told The Hollywood Reporter on Saturday that she had yet to receive a personal apology from Black for casting Striegel. (Black did release a public apology after the LA Times story was published, saying, "I apologize to all of those, past and present, I've let down by having Steve around them without giving them a voice in the decision.")
At the film's Toronto premiere, Munn told Variety that she didn't hear from Fox between her alerting them to Striegel's past and their cutting the scene. "When I called, [Fox] was silent for two days," she said. "I'm not saying they weren't working on it behind the scenes. I just didn't hear anything about it. But I'm happy that they did, obviously, because I'm proud of the work we did in this movie. We all worked really, really hard, and I wouldn't be able to morally stand behind this movie with this guy in there."
"Our studio was not aware of Mr. Striegel's background when he was hired," Fox said in a statement to the Times. "We were not aware of his background during the casting process due to legal limitations that impede studios from running background checks on actors."