Olympian Eugenie Bouchard's Loss Blamed on Her Interest in Fashion
A sports broadcaster blames Olympian Eugenie Bouchard's loss on her interest in Kylie Jenner lip kits and "different hairstyles."
---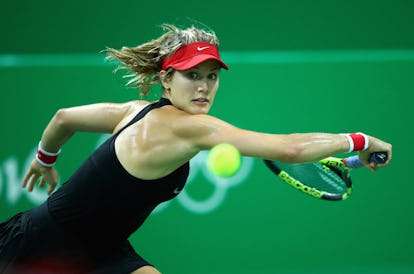 Getty Images
Eugenie Bouchard has a lot going for her. At 22, the Canadian is currently ranked the 42nd best tennis player in the world, has previously appeared in a Wimbledon final, and hangs out with fellow Canucks like Drake. She's also a stunning blond with a healthy interest in fashion. She's scored herself a few Canadian fashion covers, as well as a feature in American Vogue.
One thing Bouchard does not have going for her is a successful trip to Rio. She was bounced out of singles competition by second-seed Angelique Kerber in the second round. Then she and doubles partner Gabriela Dabrowski were defeated by Czech duo Lucie Safarova and Barbora Strycova (it's worth noting they're the same pair who shocked the world by handing Venus and Serena Williams their first loss in Olympics doubles competition ever earlier this week).
Tough break, but it happens. The tennis courts in Rio have seen more than a few shocking upsets these games. In addition to the Williams sisters' loss, Novak Djokovic was ousted in the first round over on the men's side.
However, Canadian Broadcasting Company sports broadcaster Adam Kreek has apparently spent a lot of time creeping on Bouchard's Instagram, and decided to blame's Bouchard's tough break on her interest in fashion and beauty.
"When I look on her social media, she's posting pictures of herself, she's holding up the toothpaste and she's trying out different hairstyles," an incensed Kreek shared with the Canadian public.
The man says "trying out different hairstyle" with the sort of disdain for people "trying out different drugs."
"For me as a sports fan, I'm not interested in watching that," continued Kreek. "But there are people out there that want to see someone, you know, pursuing beauty and fashion and this sort of thing. And maybe that's, 'I got into the tennis world and I want to leverage this.'"
For what it's worth, Eugenie Bouchard's Instagram is full of "OOTDs" and hashtag Fashion.
She even, like most 22-year-olds, is a fan of Kylie's lip kits.
She's certainly not alone amongst athletes, male or female, for having an interest in fashion and things like "different hairstlyes" (paging Dennis Rodman). Look at a guy like LeBron James, a guy who has won almost as many NBA championships as he's lost. He's got his own streetwear boutique, but no one blames any of his screw ups on his burgeoning fashion empire. Fellow Rio loser Djokovic has dipped his toe into the fashion world more than a few times, but no one's blaming his loss on that.
And the fact this is coming from the Canadian media is even more shocking.
Maybe Americans would assume that a Canadian sports broadcaster would cover the nation's athletes with all the politeness we association with our northern neighbor: "Oh well, that's a tough break, eh? It's probably our fault for not cheering hard enough. Saurry aboot that."
Turns out sexist sports coverage isn't just an American coverage.
Oh well, at least Bouchard still seems to be having a good time in Rio otherwise.