On the Farm with Frederic Fekkai
W's beauty director heads to the legendary hair stylist's Hudson Valley home for a memorable evening.
---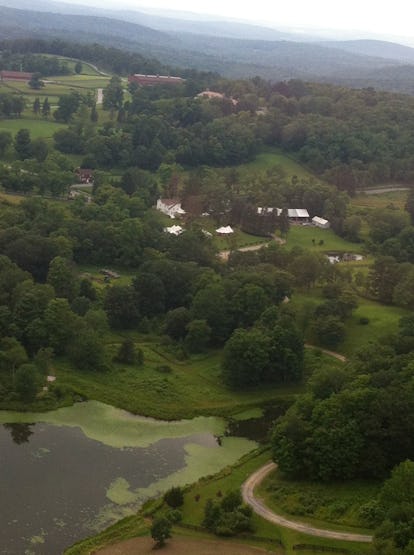 I have a weakness for the French. Take Tobias, a charming if somewhat hirsute male who pursued me with abandon last Thursday night. His unusual looks intrigued as he assessed me with his gentle eyes. Still, his temper told me to keep my distance.
"Where are you going, ma cherie?" he groaned as I walked away from his corral. Sorry, Tobias, a delicious glass of rose was beckoning across the way.
OK, Tobias is a donkey, but a French donkey, which does add to his charm. He is owned by an even more charming—and much more articulate—French male, Frederic Fekkai, who hosted a delightful dinner on the farm he and his wife Shirin von Wulffen own in Dutchess County last week.
The evening celebrated the Frederic Fekkai product line, as well as a few sneak peeks at some nifty 2014 launches. As 30 or so beauty editors dined on chilled zucchini soup, grilled Bronzino, and apricot tarts with lavender honey ice cream, Fekkai explained how he first discovered the area.
"I came up here for the first time in 1993, visiting friends, when I got invited to play soccer at Massimo Ferragamo's estate. I just fell in love with the area," Fekkai, who bought the farm in 2005, explained. "It's so peaceful here. And good luck trying to find phone reception!"
As dusk began to descend, we headed back to the city the way we had arrived: in the five helicopters Team Fekkai had leased for the night.
"I've had my license for 12 years," claimed the handsome Frenchman. "It's the only way to travel."
Flying down along Hudson River with the sun setting to our right, 30 more women now agree.