On the Verge: Ari Graynor
Actress Ari Graynor taps into the phone-sex business in the film For a Good Time, Call…
---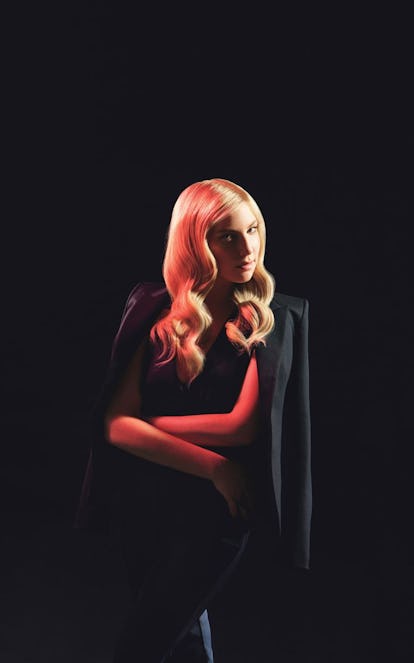 Photography by Elle Muliarchyk. Styled by Felicia Garcia-Rivera.
At 29, Ari Graynor has chugged, snorted, and yes, puked her way through a string of party-girl roles, the most memorable of which—Caroline in Nick and Norah's Infinite Playlist—had her blazing a booze-blind path through Manhattan from a gay cabaret club to a bathroom stall at Penn Station. A lady can get a reputation. Perhaps that's why, on a recent summer evening after ordering a chaste glass of rosé, Graynor cautiously asks, "Is that okay?"
She needn't worry—it's her blend of impeccable comedic timing and unfettered physicality, not her illicit onscreen behavior, that has caught the eye of heavyweights like Woody Allen (he cast her in his one-act play Honeymoon Motel on Broadway last fall).
But nowhere is Graynor's talent more evident than in next month's film For a Good Time, Call…, which the Massachusetts native also executive produced. She plays the brash Katie, who finds herself living with her college frenemy, the prim Lauren, at a time when the two are cash-strapped. To pay the bills, they hatch the unlikely plan of starting a phone-sex business—and become platonic soul mates in the process.
"Ultimately, it's their love story," says Graynor, who got her acting start in community theater at age 7. The actress did, however, discover an untapped asset. "Luckily, my voice has a scratchy, deep tenor to it that lends itself nicely to phone sex."