On the Verge: Dree Hemingway
Model-actress Dree Hemingway steps into the spotlight in January's Starlet.
---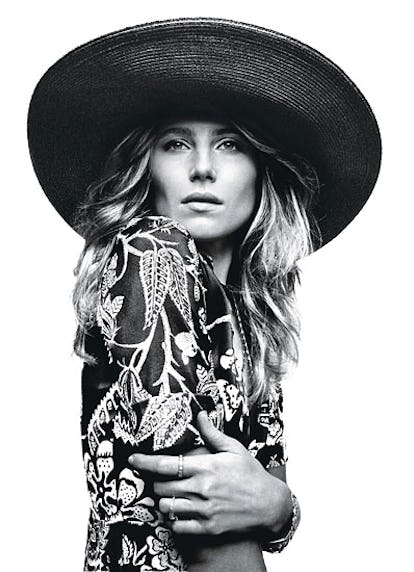 Photography by Platon Styled by Patrick Mackie
"I'm the least sexy person in real life," purrs Dree Hemingway, curled up in a chair in her downtown– New York loft, wearing an oversize sweater, her post-shower skin glistening. It's a droll statement considering that her iPhone keeps pinging—"My boyfriend's writing me love notes," she explains— and that she's currently playing a budding porn star in her first feature film, Sean Baker's Starlet.
To be fair, as Jane, a naive Midwesterner making a living off her lithe beauty in California's San Fernando Valley, Hemingway has only one explicit sex scene, for which she insisted on a body double. And though it earned the movie an NC-17 rating, Starlet is less about the 25-year-old's obvious physical attributes than it is about the innocence she exudes—a quality not unlike the kind her mother, Mariel, displayed as the Playboy playmate Dorothy Stratten in 1983's Star 80.
The young Hemingway is well aware of the impact of her famous surname, though when the Idaho native began modeling, at 16, it gave her little traction. Nowadays, with campaigns for Gucci, Gianfranco Ferré, and Valentino under her belt, as well as a burgeoning film career—she also stars in the upcoming French movie Nous York—Hemingway doesn't need to rely on her lineage.
"My favorite question is 'What do you do?' " she says with a sly grin. "I'm like, 'I'm a walking cliché: I'm a model and an actress.' "