On the Verge: Mackenzie Davis
Mackenzie Davis descends on the silver screen from a high vantage point.
---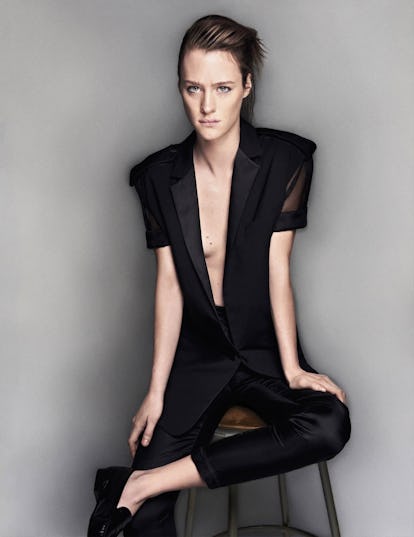 Photography by Sebastian Kim
By any stretch, Mackenzie Davis is tall—and for a screen actress, extremely so. "I didn't realize what a big deal it was until I got into this business," the five-foot-ten Vancouver native says. "I just shot a comedy with Daniel Radcliffe, and he's tiny. We have scenes where I'm talking down at him, which must look strange." In fact, many things about the statuesque newcomer, who recently made her feature debut at the Sundance Film Festival in the indie drama Breathe In, can seem outsize. After Drake Doremus, the film's director, told her she'd gotten the part of a teenager whose family is shaken by the arrival of a foreign- exchange student (Felicity Jones), she literally could not hold back her emotions. "I was throwing up during the entire first rehearsal," recalls Davis of her run-through with screen parents Guy Pearce and Amy Ryan.
In the upcoming The F Word, with Radcliffe and Zoe Kazan, the 25-year-old Davis is paired with Adam Driver (of HBO's Girls), who is, fortunately, six feet four. "Our characters are extremely forthcoming, sexually," she says. Although Davis has no qualms about talking dirty onscreen, she finds it trickier to navigate Hollywood as a young actress who also happens to be a feminist with a degree in gender studies. She recalls dealing with male costars who were less than gallant about their off-set conquests. "I was trying to maintain our rapport without being complicit in their ways," Davis explains. "That juggling act— now that was real acting."