On The Verge: Naomie Harris
British actress Naomie Harris takes no prisoners as the latest Bond Woman.
---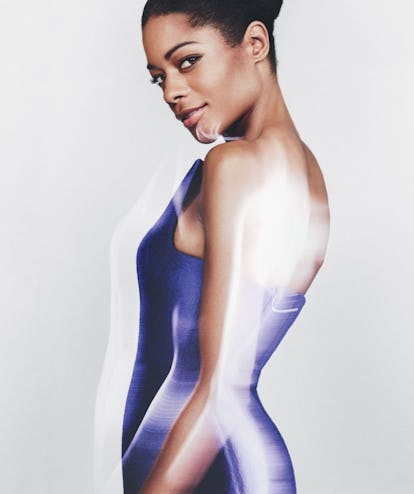 Photography by Benjamin Lennox. Styled by Tracey Nicholson.
The path toward Bond Girl–dom can be dicey. There's always the risk of death—by metallic paint (Shirley Eaton in Goldfinger), post-coitus ninja assassin (Akiko Wakabayashi in You Only Live Twice), or wedding-day gun-down (Diana Rigg in On Her Majesty's Secret Service). So when Naomie Harris was cast as Eve in the latest addition to the 007 oeuvre, Skyfall, out November 9, she had little idea what was in store.
"They said that Eve was a field agent, sort of like a female version of Bond," says Harris, 35. "I'm certainly not getting killed in the first 15 minutes!"
Besides having a longer lifespan, in the hands of director Sam Mendes, Eve is more Bond Woman than Bond Girl: a capable, strong MI6 agent whose cinematic presence has greater depth than a spangled low-cut gown. This suited the North London native, who will next be seen as Winnie Mandela in Long Walk to Freedom and who first gained notice in Danny Boyle's 2002 film about a violent zombie dystopia, 28 Days Later.
"There I was with a machete, hacking someone's arm off. It's very strange because in real life I'm not at all aggressive," says the actress, who nonetheless found her gun training for Skyfall "incredibly exhilarating…Maybe directors are trying to tell me something."