On the Verge: Victoria Justice
Actress-singer Victoria Justice is all grown up as the lead in Fun Size.
---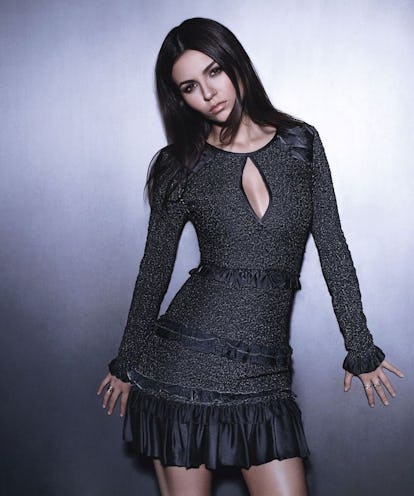 Photography by Christian Ferretti Styled by Samantha Traina
Anyone looking for insight into what makes 19-year-old singer and actress Victoria Justice tick should read her Twitter bio: "Never take anything for granted, treat others the way you want to be treated & if you have any type of facial hair, we should be friends." The Hallmark-greeting-card clichés are typical teenage-starlet fare, but an interest in facial hair? Really?
"About three years ago I developed this fascination-slash-obsession with mustaches," explains the Hollywood, Florida, native, who has more than 3 million Twitter followers. "At my signings, I'll have boys come up to me and say, 'I tried to grow my facial hair for you—I haven't shaved in weeks.' "
Justice's own fresh-faced earnestness propelled her from a starring role on Nickelodeon's Zoey 101 at age 12 to the Emmy-nominated musical sitcom Victorious, now in its final season. But it's her unexpectedly wry side that will help her transition from high school sweetheart to adult actress. First up in that endeavor is her debut film lead, in this fall's Fun Size, a raunchy Halloween romp starring Chelsea Handler, Johnny Knoxville, and Ana Gasteyer. Next year, she'll release a single from her forthcoming first solo pop album. And after that, who knows? Just don't expect any radical-haircut or risqué-photo-shoot tactics like those deployed by some of her former teen-star cohorts.
"I don't think a nude scene is in the cards for me anytime soon," Justice says. "I'm not looking to shock anyone."