Cool and the Gang
Opening Ceremony takes on Tokyo and continues to get by with a little help from its fashionable friends.
---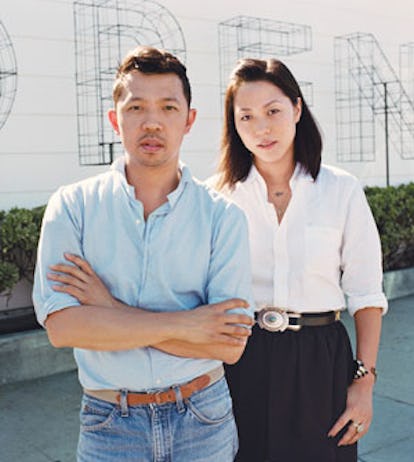 August has always been a big month for Opening Ceremony. Typically, that's when the store, which opened on New York's Howard Street in 2002 and Los Angeles's North La Cienega Boulevard in 2007, announces its annual designer focus—a different country every year—much to the delight of its loyalists. While the Olympics-inspired shtick, hence the name Opening Ceremony, has done well for the store, putting it on the radar of every fashion professional out there, no such news circulated last month. Instead, Opening Ceremony's co-owners, longtime friends Humberto Leon and Carol Lim, are turning out a year of more diversified offerings, including a slew of collaborations, an L.A. accessories shop and a spanking new outsize version (eight fashion-filled floors) of their concept, which their fans can shop till they drop—if they have plans to be in Tokyo, that is.
Inside the accessories store in Los Angeles.
In short, at a time when the most storied of stores are digging in their heels just to get by, American retail's resident cool kids are growing in profile and size. "Business has been great," says Leon, 34. "We're doing good and well and better than we did last year." Nothing says success like a big, splashy new space. At 50,000 square feet, or roughly 18 times the size of the New York outpost, the "monster store," as Leon calls the Tokyo iteration, is his and Lim's largest project to date—one that, as of press time, they had plans to celebrate on August 29 with a monster fete replete with musical performances from Julian Casablancas of the Strokes and a star-studded guest list (Rihanna, Josh Hartnett, and Mary-Kate and Ashley Olsen were among those invited). Not bad for an operation that has been described as a "mom and pop" shop, an image Leon and Lim are beginning to shed.
Indeed, while they run their American ops independently (a showroom included), the Tokyo venture was made possible by Onward Holdings Co., the $2.7 billion retail giant that owns Jil Sander, as well as the licenses for Calvin Klein and Donna Karan in Japan. "They've never supported a multilabel [retailer] from overseas," says Leon with a note of satisfaction before adding that Onward was just one of many companies to approach them over the years about franchising a store in Japan. That the Japanese, whose culture is known for its obsession with "cool," are so interested says something about Opening Ceremony's reputation. Incidentally, the feeling is mutual. "Opening our version of a department store in Japan has been in our business plan since day one," says Leon.
As for what exactly Leon and Lim consider their concept, Lim, 34, describes it as "transforming the experience of travel, which is one of the best times to shop." Indeed, Opening Ceremony was inspired by a vacation to Hong Kong, during which the pair went "shopping for anything and everything you could ever imagine," says Leon. "We started meeting all these great young designers, and we thought, Wow, we should buy some stuff for our friends. And then it became, We should bring this feeling back to the U.S." Neither Leon nor Lim, both native Angelenos, has a formal fashion education; they met at the University of California at Berkeley, where Leon studied art, and Lim economics. But both have their share of corporate retail experience. Leon put in 10 years at the Gap in high school and college before moving up to visual director at Old Navy and then Burberry, while Lim was a merchandiser at Bally.
From top: Terence Koh models his designs for Opening Ceremony; a look from Betsey Johnson Archive.
After their Hong Kong trip, they got serious, did some research and decided to co-opt Baron Pierre de Coubertin's idea for the modern-day Olympics by featuring virtually unheard of designers from different lands—first Hong Kong, followed by Brazil, Germany, the UK, Sweden and so on—interspersed with bigger names such as Rodarte, Proenza Schouler and Alexander Wang. Soon Leon and Lim found themselves with serious cool-hunter credibility, as well as a little problem on their hands: In the retail world it's considered poor form to routinely ditch designers after a short, successful run, so the partners decided to open a showroom—a veritable UN of design underdogs—to represent some of their favorite imports once they were no longer on the sales floor. "All of a sudden we thought, Wow, we've created this whole thing; now we have to help all of these people," says Leon. When asked if they have mentors of their own, they mention some of the "amazing people" they've worked for, such as Rose Marie Bravo, formerly CEO at Burberry, and Millard "Mickey" Drexler, formerly CEO at the Gap and now at J. Crew, but are careful not to give them too much credit. "What's really kind of interesting and weird," says Leon, "is that we opened the store not knowing what to do, and that has been our saving grace."
Still, success is seldom all earnest instinct and no strategy. Of the latter, Leon, who maintains the creative side of the business while Lim tends to the numbers, cops to the idea that "retail in general is about keeping things exclusive." Key to that notion has been a series of limited-edition collaborations. Among the early ones were Tretorn, Stetson and, two years ago, a collection designed by Chloë Sevigny, which drove a wild press run. Opening Ceremony also became the sole U.S. retailer of Topshop until its New York flagship opened. (The L.A. store continues to sell the collection.) Those partnerships have fueled substantial buzz, which Leon and Lim hope to duplicate this year. Their fall lineup includes a Sevigny-designed unisex collection, Betsey Johnson Archive and Opening Ceremony for Pendleton, the 100-year-old company known for its granny blankets and L.L. Bean–style catalogs.
Sevigny has already proved salable, but the latter two collaborations are prime examples of what Opening Ceremony thrives on: sourcing from left field. "You can ask a lot of girls and they'll say, 'Bet­sey Johnson was one of my first designer pieces that I bought when I was 18,'" says Leon of the Archive collection, which consists of 30 replicas of vintage pieces from Johnson's days designing for juniors' line Alley Cat and the New York store Paraphernalia, as well as her own namesake collection. "She's so fun, and I feel like she's somebody who has been somewhat forgotten about, or people don't really talk about her as much." For her part, Johnson couldn't be more thrilled. "It was really nice to have them say, 'We want it exactly the way it was before; it was good enough the way it was,'" she says. "It's been a real exciting offshoot for us to break into other magazines, like Australian Vogue."
Of course, if the Pendleton and Johnson collaborations are unlikely because they exist outside fashion's expected arena of cool, the store's venture with downtown artist and fashion lover Terence Koh is the exact opposite. Known for his meteoric rise and the use of materials such as semen and Chanel lipstick, Koh, a longtime friend of Leon and Lim's, agreed to do a small run of T-shirts and shirtdresses covered in faux pearls. Koh says he's a fan of Opening Ceremony "because it's like going into a casual shop owned by your family and friends."
A Pamela Love bracelet for the Where the Wild Things Are collaboration.
That is, if your family and friends include, say, director Spike Jonze, now also part of the OC fold. Jonze's film Where the Wild Things Are, based on the children's book by Maurice Sendak, is set for an October release. After buying what he describes as an Empire Strikes Back jacket at Opening Ceremony a few years ago and subsequently meeting Leon, he approached the duo about a way to make good use of his movie's big Warner Bros. budget. "Instead of just putting [money] in fast food and all that stuff, we want to do [projects] with people we're really excited about, who can do quality things that won't end up in the recycling bin in a month," says Jonze. After seeing a rough cut of the film, Leon and Lim came up with the idea of faux furs based on each of the monsters, and a line of clawlike jewelry by Pamela Love. "Humberto sent me the designs and I was like, 'Okay, cool,'" says Jonze.
As exciting as the celeb tie-ins are, Opening Ceremony is not known only for other designers' clothes. The store has extensive men's, women's and accessories wholesale collections designed by none other than Leon and Lim. "Carol and I came up with the budget, and we always wanted to spend it on the really fun things," says Leon. "But we realized as we tried everything on that a lot of fun things equal really crazy outfits. So we thought, We've got to make some basics." Those basics follow a downtown, slightly hipster sensibility (read: quirky, maybe even a little ugly) and sit at contemporary price points. Barneys New York, Colette and London's Dover Street Market have carried the Opening Ceremony collection for years, while Saks Fifth Avenue and Bergdorf Goodman have jumped on board within the past two seasons. Does such exposure risk diluting Opening Ceremony's cool currency? Leon and Lim don't think so. "It's interesting because we have as much of a downtown customer as an uptown customer," says Leon. "We have a Jersey customer."
Koh: Courtesy of Dietmar Busse; Store: Courtesy of Caleb Lin; Betsey Johnson archive: courtesy of Sebastian Kim