Oprah Winfrey Shares Details of Her Hangout With Meghan Markle's Mom, Doria Ragland
She also called the royal wedding "transformative."
---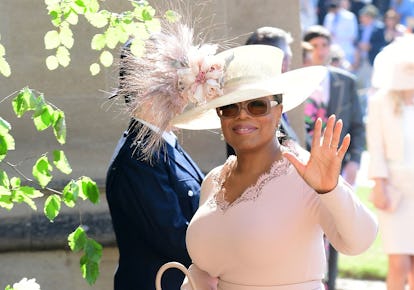 IAN WEST/Getty Images
Oprah Winfrey was among the many esteemed celebrities who got an invite to the royal wedding. And a few weeks before the big day, she also spent an afternoon with Meghan Markle's mom, Doria Ragland. At the time, the six-hour hangout made headlines for reportedly being a build-up to an exclusive tell-all interview about the "racist abuse" thrown at the Duchess of Sussex after she began dating Prince Harry. Now, Oprah is setting the record straight, revealing that the visit was nothing more than a cute friend-date involving a yoga mat (Ragland is a yoga instructor) and kumquats for dessert.
"The story was that Meghan's mom had come to my house and she left laden with gifts," Winfrey told Entertainment Tonight in a red carpet interview. "You know what the gifts were? First of all, she's great at yoga, so I said, 'Bring your yoga mat and your sneaks in case we just want to do yoga on the lawn.' So one of the bags was a yoga mat and the other was lunch."
Winfrey added that the pair had kumquats for dessert. "She said, 'I love kumquats,' and I said, 'I have a kumquat tree! You want some kumquats?' So it was a basket of kumquats, people," she said. "For all of the people who said I am getting her gifts and I'm trying to bribe her for an interview—they were kumquats. If kumquats can get you an interview, I'm all for it!"
The talk-show legend also shared her thoughts on the significance of the royal wedding, calling the experience "transformative." "It was more than a wedding, I thought," Winfrey told Entertainment Tonight. "It was a cultural moment. And you could not be there or watching on television… and not feel that there was a shift that just happened in the middle of it."
"I think it's bigger than them and I think it bodes well for hope for all of us," she added.
Royal Wedding 2018: See the 10 Best Dressed Guests, From Amal Clooney to Troian Bellisario
Oprah Winfrey in Stella McCartney arrives at St George's Chapel at Windsor Castle before the wedding of Prince Harry to Meghan Markle on May 19, 2018 in Windsor, England.

WPA Pool/Getty Images
Sofia Wellesley arrives for the wedding ceremony of Britain's Prince Harry, Duke of Sussex and US actress Meghan Markle at St George's Chapel, Windsor Castle, in Windsor, on May 19, 2018.

CHRIS RADBURN
Carey Mulligan in Erdem arrives at St George's Chapel at Windsor Castle before the wedding of Prince Harry to Meghan Markle on May 19, 2018 in Windsor, England.

WPA Pool
Lady Kitty Spencer arrives at St George's Chapel at Windsor Castle before the wedding of Prince Harry to Meghan Markle on May 19, 2018 in Windsor, England. (Photo by Ian West – WPA Pool/Getty Images)

WPA Pool
Victoria Beckham arrives for the wedding ceremony of Britain's Prince Harry and US actress Meghan Markle at St George's Chapel, Windsor Castle on May 19, 2018 in Windsor, England.

WPA Pool
Troian Bellisario arrives at St George's Chapel at Windsor Castle before the wedding of Prince Harry to Meghan Markle on May 19, 2018 in Windsor, England.

WPA Pool
Amal Clooney arrive at St George's Chapel at Windsor Castle before the wedding of Prince Harry to Meghan Markle on May 19, 2018 in Windsor, England.

WPA Pool
Abigail Spencer and Priyanka Chopra arrive at the wedding of Prince Harry to Ms Meghan Markle at St George's Chapel, Windsor Castle on May 19, 2018 in Windsor, England.

Chris Jackson
Serena Williams, in Versace, arrives at St George's Chapel at Windsor Castle before the wedding of Prince Harry to Meghan Markle on May 19, 2018 in Windsor, England.

WPA Pool