Vive Le Juice! Organic Avenue Is Back From the Dead
Founder Denise Mari on what's new ("mylk"), what's next (dirt), and how the brand is going back to its lifestyle roots.
---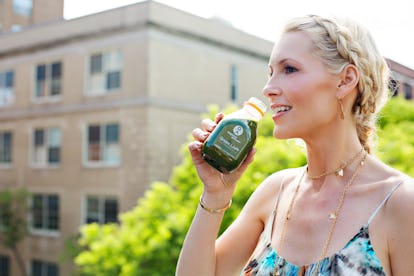 Organic Avenue is back on Bleecker, and to stay this time. To everyone's surprise, the juice and health food empire founded by Denise Mari in 2002 closed its doors in October. Despite the fact that cleanses were all anyone could talk about in New York City at the time, it would seem that most of the population wasn't practicing what they preached. With the help of a an investment firm called Fisher Capital Investments, Organic Avenue came back from the dead last week with a handful of new products and the mission to return to its original roots, which were more focused on a 360-degree healthy and sustainable lifestyle, rather than crash cleanses. "I think dieting is really a thing of the past," Mari told W magazine. What's next? Well, charcoal, of course, plus dirt and something she calls "mylk."
What's new about Organic Avenue? Most of the new menu items are at the "Blend Bar" (smoothies, bowls, mylkshakes), plus the "Vegan Caffe" and organic espresso bar with fresh, house-made nut-mylks and vegan, gluten free pastries. There are also a selection of vegan entrees (salads, quick-heat meals, desserts), as well as a new Organic Avenue brand snack line, with many more items to come. We also have Kombucha on tap.
Sorry, mylk? Mylk is a word I coined and use for all non-dairy/non-animal milk.
What did your past experiences teach you about consumer habits, like juicing and health trends? Juicing is not so much a trend as it is one important part of a healthy lifestyle. The overall direction is toward greater consciousness around consuming in general and food more specifically. I believe people are seeing that they have power by making choices not only for their own health but also in the rippling effect their positive choices make. Every choice makes a difference.
What steps did you take to resuscitate your company? Steven Fisher and FCI are a key factor in seeing Organic Avenue open its doors again. Having the right partners is the essential element to helping a brand. Also, the right team. I am blessed to have reconnected with a growing team of passionate and dedicated, loyal and truly loving, intelligent and kind people who are giving it all to bring Organic Avenue back — and to stay. Personally, I only needed the opportunity to reconnect as founder and director of the brand. I have always loved expressing my passion and purpose via Organic Avenue, a lifestyle that I live and love.
How are you adapting to the current health/juice climate? What's changed? What do customers want now? When I founded Organic Avenue in 2002, there was no intention to become a "juice company." We just happened to make great juice! The original Organic Avenue sold more than food than juice. We sold organic, hemp, and bamboo clothing, super-foods, plant-based supplements, kitchen equipment, books, snacks, beauty. We focused on what was needed or wanted to make the lifestyle convenient and enjoyable. It's not so much that we are adapting, as we are returning to the original direction for the brand. We are able to focus on a more well-rounded food/juice + lifestyle experience. I believe customers want as much of the good as they can get. Even here in NYC in the so-called saturated juice world there is still a need for greater access to healthful pure plant-based food and juice options.
__You told the New York Times in 2015 that you thought charcoal was the next health trend. Was it?__ Charcoal is great. I've seen the product gain attention. I definitely see more minerals, even dirt surfacing as a trend toward healthy living.
What's the next big trend in health foods/cleansing/dieting? I think dieting is really a thing of the past. Once people learn and become comfortable on a plant-based diet, weight stabilizes and is no longer an issue. Therefore no more dieting! I think the nut-cultured cheese and fresh (non-dairy) mylk will be hot items. Most people have no idea how delicious and nutritious the nut-cultured cheese can be.
Photos: Vive Le Juice! Organic Avenue Is Back From the Dead
Denis Mari drinking Green Love juice in the brand's signature glass bottles. Photo courtesy the brand.
Denise Mari, founder of Organic Avenue. Photo courtesy the brand.