The Red Carpet Skin Workout by Celebrity Facialist Thuyen Nguyen
In town for the Oscars this weekend, the A-list facialist discusses the benefits of green juice, facial cupping, and his celebrity clientele.
---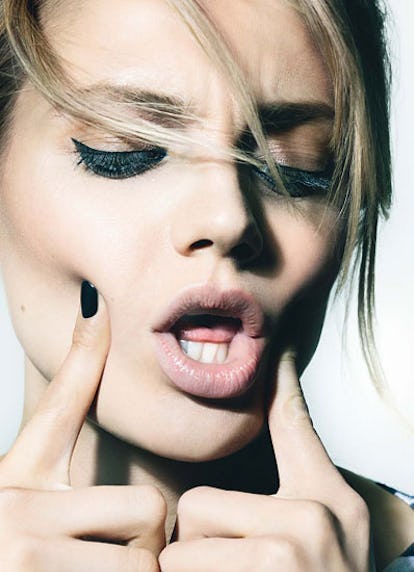 Photographer: Craig McDean Stylist: Alex White
"In Asia, we believe that when it comes to skin care, you must challenge the skin and muscles in order to train them, strengthen them and keep them remaining toned. Westerners do this with their body muscles but often ignore the face."
Thuyen Nguyen, A-list celebrity facialist (Cindy Crawford, Katy Perry, Jennifer Aniston, Michelle Williams and Natalie Portman are clients) has a point. You may be able to recall the last set of strenuous leg lifts you did earlier this week, but when did you last dedicate some time to toning up your jawline with some facial exercises? Many reputable aestheticians have begun incorporating skin massages and facial exercises into their client's treatments, especially in the last few years. Nguyen takes those skin principles and ups the ante a few notches by also implementing the time-honored Eastern traditions of face cupping, with lymphatic drainage as well as his unique set of Vietnamese facial exercises (an estimated 12,000 strokes per skin session) to keep his bevy of clientele pleased. In town for the Oscars (he is performing facials at Dr. Kevin Brenner's office in Beverly Hills this weekend exclusively), he spoke with W about the "ins and outs" of holistic skin care and the importance of an overall routine that promotes good muscle tone.
Facial massages have been on the up; people are noticing the practice maintains skin elasticity and firmness. When did you personally realize the connection?
Early in my career when I was in the medical field, I volunteered massage therapy for paralyzed patients in hospitals. Because of their condition, they required massage therapy on a regular basis to prevent the damage of muscle atrophy and skin deterioration. Within a couple of weeks, I quickly noticed improvements of muscle tone, skin health and elasticity. That's when I realized massage is also anti-aging.
There are so many avenues of wellness that your background of Eastern medicine can take you. What exactly inspired you to be an aesthetician?
My background helped me realize the disconnect, and ask, why do we use exercise to maintain health, vitality and youthfulness for our bodies, but not for the muscles and skin of the neck and face? So, I started studying more intensely Eastern holistic care and also the cosmetic benefits of massage therapy, then I pioneered it into my signature "Skin fitness within skin care" approach. Thus healthy, instant results led me to a client list primarily built on word-of-mouth.
How did you get your big break professionally?
My first public platform came when I was scouted to be the creative director of the Greenwich Hotel's spa back in 2006, where I debuted my unique body and facial services. My skin-care line Thuyen Skin Care also launched for the first time there, beyond my private practice. That's when I was first tagged as the "well-kept secret of the Greenwich Hotel." From that project, I decided to venture independently to open my own locations in the Hamptons and Tribeca.
You are known for your signature InstaLift Facial Sculpting Facial. What makes it so impactful?
Like anything in wellness or holistic medicine, our skin requires a combination of multiple parts to deliver a synergistic host of benefits. So, within the InstantLift Sculpting Facial massage session, the face and the neck's skin and muscles go through an intense process of lymphatic drainage, detoxing of all three dermal layers, relaxing of muscle fascia tension, rapid cellular regeneration and metabolism, pore decongestion, and improved elasticity of the skin matrix. All this occurs simultaneously while my "millipede" fingers thoroughly work in multiple layers of my professional-grade line of organic elixirs and serums. Manually, my fingers run unusually fast and have been clocked at an average of over 12,000 strokes per session. That's how I got the nickname "The Maestro" from beauty editors.
How does a Vietnamese Sculpting Massage differ? Is this the FaceXercise that you perform on your clients?
FaceXercise is my skin fitness philosophy and features my signature InstantLift Sculpting Facial, which originated from my Vietnamese roots. The significant difference with the Vietnamese approach to professional skin care is that a rigorous facial massage is the main feature—which is more holistically beneficial and cosmetically enhancing than the slower-paced, lighter-pressure facial massages typical of Western facials that rely more on pampering and product application.
At what point during the facial is the lymphatic drainage incorporated into the massage?
The first part of the 60-minute InstantLift Facial process is a thorough drainage of the lymphatic system which is basically our "garbage disposer" carrying an excess fluid made up of white blood cells, bacteria and cellular waste. This is such an important functioning system of our body and skin that is parallel to our circulatory system. However, it relies on exercise and daily muscle movements to maintain our health and immunity.
How does cupping benefit the complexion? I am curious, doesn't one risk any acne coming to the surface after face cupping since cupping is known to remove toxins?
Like back cupping in acupuncture, facial cupping is a preventative modality that is over 3000 years old, with proven benefits. The difference is when I do facial cupping, I have an application method that does not yield post-treatment cupping marks. Remember, detoxing is definitely a secondary benefit to utilizing it to manually exercise and tighten the pores with the various cup sizes while alternating with sculpting massage. It's rare that acne occurs since the alternating repetitions of lymphatic drainage and massage helps alleviate inflammation. One has a better chance of inflaming acne through invasive pore extractions or low-quality skin products, or even volatile foods. In fact, I've done this facial on clients a few hours before the red carpet, and it's calmed down inflamed cystic acne spots. Facial cupping, if done correctly, also prevents breakouts and recurring blackheads with regular facial maintenance.
How long do the results of your facial usually last?
With first-time clients, a facial session yields a more fresh, brighter and healthy glowing complexion for a couple of weeks. Like any exercise, the health and cosmetic benefits will build on top of the previous facial "workout." Most of my devoted clients have been with me for years and view this as a necessary part of their fitness and healthy lifestyle so they tend to reflect clear, age-defying complexions at any age and find themselves relying on less makeup to cover flaws.
Does this help pigmentation in any way?
Absolutely. Hyperpigmentation is sometimes rooted in our immune system, which is why discoloration appears more as we age or even when someone is pregnant. Since the massage therapy raises our endorphins and boosts our immune system, this facial helps keep hyperpigmentation at bay and even enhances our skin's natural ability to protect itself from harsher environmental factors.
Are you a fan of lasers and peels?
I am pretty organic and holistically inclined in my approach. But I also believe in moderation when it comes to cosmetic lasers or non-invasive peels. Building the skin from the internal to external is my best advice.
Let's discuss your work with clients that will be walking down the red carpet on Sunday. While every person's skin is unique, what's the rule of thumb for facials before a big event? Do you recommend that your clients get a facial the day before, or the day of, a special event?
Keep in mind that most of my clients are devoted regulars so I have clients coming weekly, every other week to once a month minimum. However, with clients that have special events, public appearances or important photoshoots, they reserve me on the day directly before hair and makeup. That's actually how my name got passed around the red carpet scene during awards season. Makeup artists like Angela Levin, (who Jennifer Aniston introduced me to eight years ago,) Hung Vanngo (we both work with Katy Perry, Cindy Crawford and Uma Thurman, who originally introduced us) witnessed my work on various clients's skin and generously referred me to others. My skin work helps make their work easier by ridding clients of puffiness and bringing out their sculpted cheekbones with an overall well-rested look.
In your professional opinion, what would be an ideal product to apply before makeup to keep the skin glowing in anticipation of foundation and the layers of makeup that go on?
I would say my Thuyen Skin Care Multivitamin Nourishing Serum massaged into freshly cleansed skin. It quickly revives with organic skin nutrients. Then, follow with the Wrinkle & Frown Line Cream. It's a non-greasy skin barrier and a supple skin palette to apply makeup over while still protecting the skin during hours of hot lights and cameras.
Do you have any particular advice for clients in terms of what to do to their skin or what to avoid the evening before a red carpet event, or any special event?
Often red carpet clients arrange to see me one or two days before the important event, then the day-of, since they come in town for more than one appearance and the first is usually to reset their complexion from the stresses and bloating of flying, or a hectic schedule of filming. I do encourage them to stock up on green organic juices and anti-inflammatory foods. But even if they don't have the time or discipline in social settings, I have miraculously delivered to many in a panic—I can help them look like they slept for a week.
What skin products can you not live without?
Honestly, I keep my skin regime simple. I get a body massage regularly and massage my face and neck rigorously daily for a minute while showering. Of course, I use my own results-proven line, but am adamant that without the internal workout, one cannot truly reach their skin goals with just topical. However, with this marathon of L.A. awards, my Hydrating & Tightening Travel Whip has been my secret, TSA-friendly travel companion on those flights.
Any skin supplements you think really help skin glow?
I'm an avid organic green juicer, so for me it's all about raw, live vitamins and minerals gained from fresh vegetables and fruits paired with a tablespoon of apple cider vinegar and a whole lemon to alkaline. That daily dose gives me so much energy to last me throughout the day and helps keep the liver cleansed, which in turns shows in a clearer, brighter complexion. Also, I love and swear by the Skin, Hair & Nail Repair Supplement from Pure Essentials. I especially recommend it to my clients, since they are always on the go.
What advice can you give our readers specifically in terms of prepping their skin at home for a night out?
Beyond a healthier meal program with daily green juice a few days before event, I encourage my clients to get their facial "passive exercise" game on at least the night before any special event. Any minute or more of a daily self-facial massage you can give yourself is a must addition to your skin regimen, between your professional facial massage sessions. I guarantee you that it's a fantastic booster when you need a quick recharge to look your best. Everyone has some sense of massage, so I guide clients to not try to "be me" and focus less on choreographing the massage, but rather rub vigorously the skin of their neck and face in all directions while finishing with upward strokes. The skin is a reactive organ, so the more you manually knead it, the more blood will surface to your dermal layers to deliver nutrients from your foods while removing toxins through your lymphatic system. And lastly, skin care is half psychology. Always view yourself kindly with positive thoughts—those good vibes with proper rest will help you glow inside and out.