A little bit of Bloomsbury in the Hollywood Hills
Over the past few dreary months in New York, we've often found ourselves living vicariously through Lisa Borgnes Giramonti's blog, A Bloomsbury Life. A former advertising exec and writer's assistant on Will & Grace, Giramonti...
---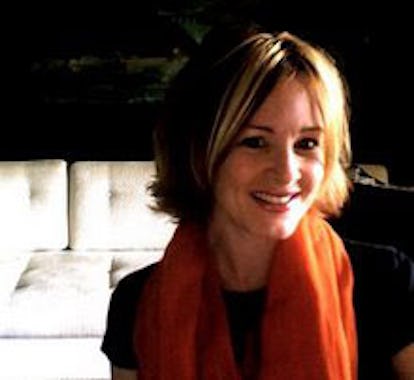 How did you come up with the Bloomsbury moniker? I'm totally obsessed with the whole Bloomsbury group, Vanessa Bell, Virginia Woolf, Duncan Grant… I've made pilgrimages to Charleston House and I'm a huge Anglophile. I love their sense of living life to the hilt. And their houses were gorgeous; they created their own wallpaper, their own fabric.
And that's what you were looking to do with your home? Yes. We moved from New York to LA four years ago and bought this big Paul Williams house and then I went to India and when I came back I realized, "Wow, this is just ridiculous! There are three of us living in this big house." So we downsized to this new, smaller house a year and half ago and I wanted it to reflect me for the first time. The other house was great but it was a museum.
Did you have any help from a designer? I did all the interior decoration on my own. And actually the home was just shot recently for a book by Christiane Lemieux, who runs DwellStudio. It features houses that were not done by designers. [Ed's note: it's due to be published by Random House in Fall 2010.]
Have you ever considered becoming a decorator yourself? I'm actually doing a project right now for the director Alek Keshishian, who's a friend. I'm untrained and there are already some fabulous designers in LA who I really respect so I guess I'd say I do it on an informal basis. I've had friends call and say, "Can you come over and give me your eye?"
Many of your posts are about the great trips you seem to be forever taking, to Europe and India and even Easter Island. Have you always been a traveler? I grew up in Norway, Sweden, England, and Belgium and moved to America at nine, so it's in my blood. What really changed everything for me was that two years ago I went around the world on a private jet with my mother for a month, arranged through National Geographic. I got over my fear of flying and so many other fears. For Christmas, I'm taking my husband and son to either Morocco or India.
You often post about the books you're reading. What's one your bedside table these days? I'm completely obsessed with Beverley Nichols, this fabulous gay guy in the 1940s who was a gardening expert who bought all of these houses in England and restored them and then wrote a series of books about them. He's like Noel Coward stuck in a P.G. Wodehouse novel. He's kind of bitchy and always having rivalries with the neighbors. The books have all been reissued and are on Amazon.com. I can't stop reading them.
We asked Giramonti to share some of her favorite haunts, style sources and hideouts. Here, her list:
LA restaurants: Cecconi's Restaurant, West Hollywood Bottega Louie, downtown LA The Polo Lounge
Home decor sources in LA: Hollywood at Home Wurtz Brothers Antique Mart The Rug Company Living Room Empiric Studio
Vacation spots: La Columbe d'Or, South of France Oberoi Udaivilas, Udaipur, India Gargunnock House, Landmark Trust, Scotland Chateau de Sevigne, France
See Lisa Borgnes Giramonti's blog, A Bloomsbury Life See W House Tours for the most magnificent houses from the pages of W.