The Overboard Remake's First Trailer Has Arrived
And we're head over heels for it.
---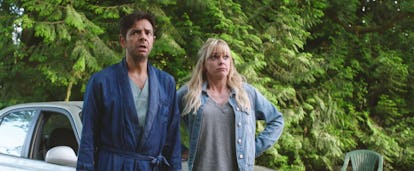 MGM
The first trailer for the remake of Overboard has arrive, and while the original is an indisputable American classic, this new spin on the film looks to be a downright nautical delight.
The original, 1987 flick is classic a total screwball romantic comedy, in which Goldie Hawn plays a wealthy socialite opposite her actual longtime partner Kurt Russell (he plays a carpenter working on her yacht). When a fall causes Hawn's character to lose her memory, Russell poses as her husband to teach her a lesson. The plot is apparently the same in the remake, due in spring of 2018, but with the genders swapped (even you'd assume star Anna Faris could play a quite convincing Goldie Hawn-type). Faris is a carpet cleaner, pizza-shop employee, and single mother, while How to Be a Latin Lover's Eugenio Derbez is a wealthy, yacht-owning playboy who, well, loses his memory. So Faris takes him in as her husband to teach him a lesson — you get it. Eva Longoria (who just announced that she's pregnant) co-stars as Faris's best friend and co-conspirator.
Just as Goldie and Kurt were actually in love on the original, the remake seems to have spurred a new romance, as well. Faris, now officially divorced from Chris Pratt, is currently rumored to be dating cinematographer Michael Barrett, whom she met on set. Maybe they were keeping things quiet, or maybe it was a friends-first, dated-later situation; they've only recently been romantically linked and have apparently gone on several dinner dates. Guess you could say they fell for each other?
Check out the trailer for Overboard, below:
And, if you're curious, you can also compare it to the trailer for the original: