Eva Longoria is Expecting Her First Child
Eva Longoria and José Antonio Bastón are expecting their first child together.
---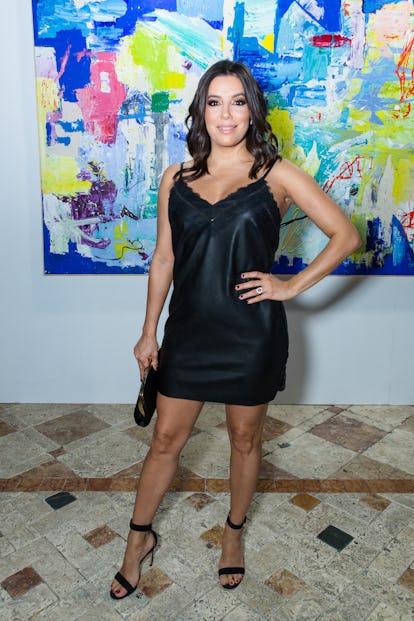 Sansho Scott/BFA.com
Eva Longoria has accomplished a lot in her life. She's a Golden Globe-nominated actress, a political activist, and increasingly prolific producer. Now she'll add the title of "mother" to her resumé. The star's reps have confirmed to E! News that she's expecting her first child with husband José Antonio Bastón after the news was first reported by ¡Hola! Indeed, the baby's sex has already been revealed. The couple is expecting a boy.
Longoria married Bastón in May, 2016, and she's already step-mother to the businessman's three children from a previous relationship. "[My stepchildren] have been such a gift in my life," she once told People. "I don't feel like we're lacking because we don't have a baby. We're fulfilled." The baby will, however, be the first child for the 42-year-old.
Pregnancy rumors have been circulating around Longoria for months now actually. As The Hollywood Reporter points out, she even addressed them on Snapchat all the way back in April after some thought they spotted a baby bump when she was on vacation with Bastón in Hawaii in April.
"I saw some pictures of myself really fat on a boat. I have to tell you all I did was eat cheese," Longoria said via a Snapchat video at the time. "Everybody's is saying I'm pregnant and I'm not. I was just lactose intolerant apparently. I just had to share because my whole family is calling me asking me if I'm pregnant. Yes I look pregnant, but it was just a ball of cheese, a ball of cheese in my stomach."
Of course, that may have been true at the time. The actress was last seen in public just a few weeks ago at events during Art Basel Miami Beach, and she certainly didn't look eight to nine months pregnant then. A due date was not confirmed.
Related: Eva Longoria Experiments with ASMR–And Hopes It Is Soothing for Listeners