How Paddle8 Became the Elite's Favorite Consignment Shop
From Lynn Wyatt to Tory Burch, it's where society now pawns off its precious tchotchkes for thousands and thousands of dollars.
---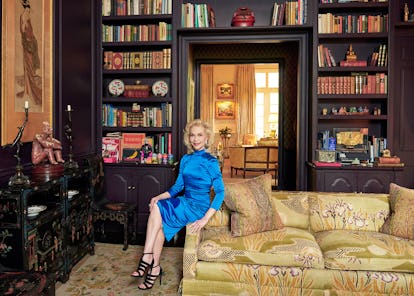 "The first haute couture I ever had made-to-measure was from Coco Chanel. I went in for a fitting and she [Coco] peeped in and said, 'Oh, so you're the Texan,'" the Houston socialite Lynn Wyatt recalled recently in her charming Southern drawl.
Over the years, "the Texan" bought many more Chanel gowns. And Valentino and Dior and Yves Saint Laurent, all eventually forming a remarkable collection of some of the best pieces of French couture this side of the Atlantic. Last month, she decided to do some much needed spring cleaning and put up some of her most beloved possessions up for auction. Only she didn't go to Christie's or Sotheby's or any of the other established auctions houses where the wealthy usually pawn off their no longer desirable wares. Instead, Wyatt chose to sell 20 of her finest couture dresses – made for her personally by friends like Emanuel Ungaro and Saint Laurent – on the auction site Paddle8.
Wyatt was not alone. In the last few years, the fledgling site has become the place for the one percent to unload their precious tchotchkes for thousands and thousands of dollars (their target market is $500,000 lots and below). Andy Spade has gotten rid of pieces by the likes of Chuck Close and Dash Snow on the site. Just back in October, Tory Burch sold two very Tory possessions, photographs by Slim Aarons and Massimo Vitale of the jet set at leisure. In December, the collector Jean Pigozzi sold a Robert Ryman painting for upwards of $250,000, making it the most expensive work Paddle8 has ever sold from a single auction. Two years ago, the auction for the writer Bob Colacello was divided into sections: sex (a needlepoint pillow by Bridget Berlin inscribed "It's raining men"), parties (a New Year's Eve card designed by Robert Mapplethorpe, very au courant) and Warholia (a copy of Candy Darling's My Face for the World to See.)
If in the past, high society opted for a high-profile auction houses to sell their baubles after a tabloid divorce – see Ellen Barkin – or a death – see Brooke Astor, Jacqueline Onassis, Bunny Mellon – Paddle8 offers its own perks: the auctions are quick (they generally last two weeks), high value, tightly edited, and private (the buyer's name is never disclosed) – a far cry from the methods of the old world auction houses.
That a five-year-old site that's democratized the tony world of auctions and fine art has successfully linked up with a clutch of bold-faced names is partly due to the fine touch of Alexander Gilkes, a former auctioneer at Phillips who founded the site with Osman Khan (a former investment banker) and Aditya Julka (previously a serial entrepreneur) in 2011. British-born and Eton-educated, Gilkes, 36, is something of a man about town, an agreeable presence in dapper, tightly-fitted suits who is ubiquitous in the international party circuit, usually in the arms of his wife, the fashion designer Misha Nonoo.
"Alex is one of the best dressed, best looking, most charming, smartest young men… anywhere," Colacello gushed. "He also delivers. I wouldn't have put my Warhol, Studio 54-era ephemera on Paddle8 unless I trusted that they knew what they were doing. It is one thing to be friendly with someone because they are very handsome and well dressed and talk a good game, but they have to deliver."
When Gilkes began Paddle8, they were Davids in a world dominated by Goliaths. "In the early days, we had to go out and get these people interested," he said. Convincing wealthy patrons to give them a shot served several purposes, not least of which was a measure of much needed credibility. Sellers, though, eventually became buyers as well, a nice little bonus for the site. Now, Gilkes claims, they come to him to help them sell the Basquiat drawings collecting dust in their warehouses and the custom Valentino couture gowns that are no longer in season.
"We were successful in getting everyone from the late Robin Williams to Marina Abramovic to Glenn O'Brien. With the success of those first few, people started to come to us for various different reasons," Gilkes said.
There were those who just wanted to declutter – Andy Spade adopted a new minimalist approach to life after he moved out of his home in the Hamptons (William Merritt Chase's original studio) and auctioned pieces that he didn't have room for, like a Chris Ofili painting and a Rene Ricard drawing. Colacello had a lot of artifacts that might have been of interest to the remaining Warholites left out there – want an old bottle of Chateau Mouton Rothschild designed by the artist? His Paddle8 auction had one. How about an old poster of Elaine's, if you remember what Elaine's was? Colacello auctioned one as well.
Other sellers, like the writer and ersatz actress Joan Juliet Buck (she's on CBS' Supergirl), just wanted to make some money. She wrote a letter to Paddle8 expressing her interest in doing a sale. "She said I have everything from early 1970s semi-erotic magazines to Egyptian scarabs," Gilkes said. "I have heard great things about you from my friends like Glenn O'Brien and I am moving upstate. Can you come see if anything makes sense for a sale?" The items, everything from photos by Karl Lagerfeld to limited edition YSL cuffs, are now up for sale as part of the site's Accessories and Objets auction.
And legendary art collector Jean Pigozzi, who first connected with Paddle8 via their director of auctions Thomas Galbraith, was just looking to make some room in his house for more stuff. "Jean Pigozzi came in to see us and said I have rooms and rooms of stuff, why don't you come and have a look?" Gilkes recalled. "He was very cautious at first, he didn't want to sell too much and didn't really need to other than just wanting to clear some space. He was so delighted with how the sale did, he wants to discuss doing another one!"
Paddle8 declined to reveal specific data about how these single-owner, collector sales do in comparison to their other auctions, but Gilkes said there is certainly a clear advantage to having big names like Pigozzi, Spade, and Wyatt attached to them. The advantage for the clients? Paddle8 collects a commission rate (20 percent premium from the buyer; 8 percent from the seller) for items under $100,00, which is lower than major auction houses. And furthermore, the site doesn't have to handle costs of acquiring the items and moving them around since they don't take physical possession of the works.
"It really helps when you have something that has lived in the wardrobe of Lynn Wyatt that she might have worn during a Reagan visit or Andy Warhol encounter. These items have lived to see such incredible social landmarks and bygone eras," Gilkes said.
Wyatt joined the site's alchemy of collectors through the curator Hikari Yokoyama, one of the site's founding members. She offered that if Gilkes and his team put together a snappy presentation that was fax machine friendly, they could likely woo her to the site. The conversations kicked off during a picnic thrown by Barry Diller last year, Gilkes said, and "after several iterations of finding the best fax machine available, we were able to stop any of her concerns and get her to consign her beautiful frocks." (She insisted all proceeds from the sale, which ended this week, go to the Rothko Chapel.)
Wyatt, speaking from the telephone in her hotel room at The Carlyle in New York on a recent afternoon ("there's nothing like a good, old fashioned landline"), was pleasantly impressed by the site's expediency.
"I wasn't familiar with Paddle8 until about two years ago. I just thought, 'Well, why not? It's where we are at in the world now," the octogenarian said. "You can have a two-week auction and you will be sitting in a meeting and someone will bing your phone. It's no pressure, you just say yes or no, it's private and yet just so up-to-date about everything. Anybody anywhere in the world can make a bid."
And now, with the click of a button, a Chanel aficionado somewhere out there in the world owns one of Lynn Wyatt's hand-me-downs.
Photos: How Paddle8 Became the Elite's Favorite Consignment Shop
Lynn Wyatt at her home in Houston. Courtesy of Paddle8.
Lynn Wyatt at the James Turrell "Skyspace" at Rice University in Houston. Courtesy of Paddle8.
Alexander Gilkes. Photo by Weston Wells.
A Valentino sheath dress and matching bolero auctioned by Lynn Wyatt.
Prada trunk from The Grand Budapest Hotel donated by Wes Anderson and auctioned by Lynn Wyatt.
Andy Warhol's "After the Party" auctioned by Bob Colacello.
A work by Jean-Michel Basquiat auctioned by Andy Spade.
David Bowie's "Saucer 1" (1996) print auctioned by Jean Pigozzi.
Robert Ryman's "Untitled, Prototype" (1969) auctioned by Jean Pigozzi.