Pamela Anderson Revisits Her Famous Plush Hat, With a 2019 Spin
Who better than Pamela Anderson to model the new plush fedora?
---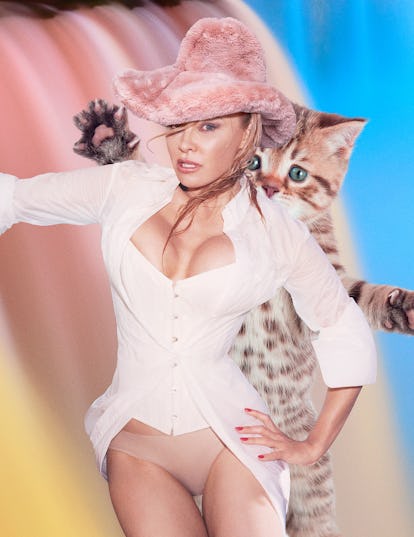 Artwork by Mat Maitland; Photograph by Mark Peckmezian; Styled by Helena Tejedor. Hair and makeup by Jonathan Sanchez; Photography Assistant: Ériver Hijano.
The provenance of the wide-brimmed fur fedora is a dubious one. I'm no historian, but I imagine it first emerged on a street corner, sometime in the 1970s, atop a colorful and rather suspect character with a cane, a Cadillac, and a name like Sammy Dynamite. Pamela Anderson, daredevil that she is, cheekily subverted the style with her own enormous bubblegum pink fedora, worn with a bustier and heavy blue eyeshadow, at the 1999 MTV Video Music Awards—a look that was in turn co-opted by Kim Kardashian for a Halloween bash last year. But it wasn't until Tom Ford, who makes everything he touches feel sexy and rich, sent a series of pastel faux-fur toppers down his fall runway, that the classic pimp hat seemed truly cool again. Pictured here on Anderson, who currently lives in France and works as a political and animal-rights activist, this bold, bossy, and ethically conscious chapeau feels very much of our time.