A Planet Earth-Style Documentary Takes You Inside the Jungle of Paris Fashion Week Street Style
Plus, Rachel Maddow and Thinx set Twitter aflame, and Helmut Lang tries a new retail experiment.
---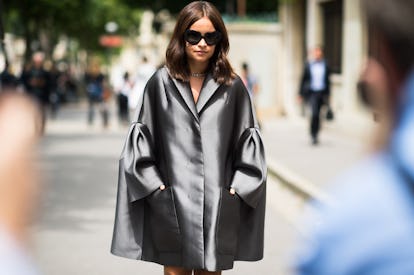 Demorest, Jude
Was completely shook upon meeting Naomi Campbell on the set of Star.
Fashion Week, Paris
In the jungles of the Marais, the arid plains of the Tuileries, the marshlands of Belleville, street style stars across Paris adapt to their environments. Nowhere is this more apparent than among the butterflies of Paris Fashion Week, who have a taxonomy all their own — in this Planet Earth-style documentary, you can get to know the genus, phylum, and family of each of Paris's most recognizable specimens.
Lang, Helmut
The minimalist label is the latest brand to test-run a grand retail experiment — though this one is grander than many. Dazed editor-in-chief Isabella Burley has been appointed editor-in-residence; Hood By Air designer Shayne Oliver has been recruited for the first special project of the new Helmut Lang era, to be unveiled this fall. But will it work?
Maddow, Rachel
Twitter-baiting us all with Donald Trump's tax returns. On air last night, she revealed two pages of a 1040 from 2005, which had been delivered anonymously to a reporter specializing in taxes. And the form leaves us with more questions than it answers.
Off-White
Virgil Abloh has been working on more collaborations than collections these days. After debuting Art Dad with No Vacancy Inn at Paris Fashion Week, he's back again with an Off-White and Kith collaboration, for which you can find an exclusive preview on W today.
Sander, Jil
Rodolfo Paglialunga, the creative director of minimalist label Jil Sander, stepped down from his post after three years, the brand announced Wednesday. Lucie and Luke Meier, the husband-and-wife designers and alums of Dior and OAMC, respectively, are expected to succeed Paglialunga at the brand.
Thinx
The scoop that set Twitter ablaze yesterday, before Rachel Maddow distracted everyone, was this: Working conditions inside Thinx, the highly visible startup (responsible for those grapefruit ads in the subway) focused on women's hygiene products and performancewear, are far from the uber-feminist values the brand espouses, according to former employees.
Get to know the butterflies of Paris Fashion Week: