Paris Hilton, Citizen of the World, Plans to Throw Multiple Weddings For Herself
"One for everyone around the world."
---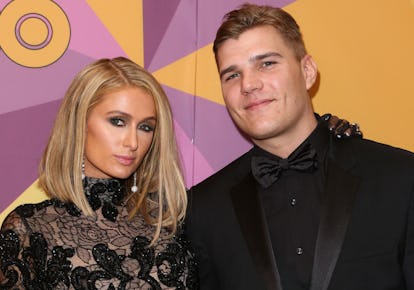 Photo by Paul Archuleta/FilmMagic
Paris Hilton loves fiancée Chris Zylka so much, she wants to marry him again and again and again. And no, we don't mean once legally at the courthouse, and once at a party for friends and family, we mean multiple full-scale Hilton-Zylka weddings. "I feel like I want to do a couple [weddings]" she told Extra earlier this month. "For my 21st birthday, I had five parties, so maybe for the wedding I will have a European one, an American one, one for everyone around the world." Hmm, perhaps one of them will be televised (or live-streamed?).
This is just another instance of Paris Hilton being a thought leader and an innovator for her generation. Think about how many issues are solved when you have multiple weddings! Best friend too busy or too far to fly to your destination on a particular weekend? Have another wedding closer to her, another time! In-laws don't get along? Have a wedding for his side of the family and another for hers. Can't pick between a DJ or a band? Just do one of each. Money isn't real and it's not like you have a job to get back to. Just keep. Doing. Weddings. And one for Kim Kardashian!, naturally.
Hilton also revealed recently that she plans to add her husband's last name to her own and use both. Paris Hilton Zylka does have a nice ring to it. Paris has been busy celebrating her engagement recently, including posting a cheeky picture to her Instagram from a 2015 photoshoot in which she's all tied up in string, and nothing else,with the caption,"Ready to #TieTheKnot ?."
In her engagement announcement, Hilton called Zylka "My best friend & soulmate. Perfect for me in every way. So dedicated, loyal, loving & kindhearted." If that's not a guy worth getting tied up for and married to multiple times, we don't know who is.
Related: Paris Hilton Invented Everything You're Doing in 2017, and She Knows It
For Celebrities Like Mariah Carey and Paris Hilton, A Trip To Aspen Is All About the Luxurious Après-Ski Outfit
Paris Hilton hit the slopes before her boyfriend Chris Zylka proposed on top of the mountains in Aspen (of course she said yes).

Photo by @parishilton.
Mariah Carey stands by the fire in her best festive après-ski look at Christmastime.

Photo by @mariahcarey.
Elton John hung out in Aspen, wearing this roaring Gucci coat, which he dubbed "perfect for tea on Boxing Day."

Photo by @eltonjohn.
Diplo flew to Aspen for a holiday performance in December 2017.

Photo by @diplo.
Goldie Hawn and Kurt Russell cozied up together with their family in Aspen around Christmas.

Photo by @katehudson.
Rita Ora posed mountainside in Aspen, Colorado.

Photo by @ritaora.
Photo by @letthelordbewithyou.
Bella Hadid took a trip to the mountains just before New Year's Eve.

Photo by @bellahadid.
Kate Hudson shouted at a Diplo concert in Aspen over the holidays.

Photo by @katehudson.
Dakota Johnson posed by the fireplace with her sister in this photograph taken by her mom, Melanie Griffith.

Photo by @melaniegriffith57.
Real Housewife Kyle Richards and her family posed outside in Aspen just before the end of 2017.

Photo by @kylerichards18.