Paris Hilton and Chris Zylka Are Engaged
"Fairytales really do exist!"
---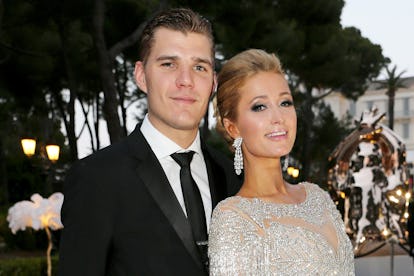 Gisela Schober/Getty Images
Paris Hilton, the original reality star, early aughts fashion icon, and inventor of the selfie, is engaged. The multi-hyphenate revealed to People on Tuesday that her boyfriend, actor Chris Zylka, proposed over the weekend, during the pair's ski trip getaway in Aspen, Colorado.
"I am so excited to be engaged to the love of my life and my best friend," Hilton said. "I have never felt so happy, safe, and loved. He is perfect for me in every way and showed me that fairytales really do exist!" She told the outlet that she and Zylka were posing for a photo in the snow when Zylka suddenly got down on one knee and pulled out a huge ring. Pictures from the proposal show Hilton, wearing a black-and-white ski outfit covered in shiny silver stars, grinning from ear to ear while Zylka pops the question.
"I was so excited and surprised! I immediately said yes!" the 36-year-old said, adding that she definitely approves of Zylka's jewelry taste. "The ring was so gorgeous and sparkling. I was shaking as I put it on. It is the most beautiful ring that I have ever seen!"
Hilton posted a few photos from the proposal on Instagram on Tuesday. In the caption, she called Zylka her "best friend & soulmate. Perfect for me in every way. So dedicated, loyal, loving & kindhearted." She also posted a very Paris Hilton announcement on Twitter. "I'm engaged That's hot!!!" she wrote.
Hilton and Zylka, 32, reportedly started dating sometime in 2016, before making their love Instagram official in February 2017, when Hilton shared several photos of her and The Leftovers actor, calling him "My #Valentine." Since then, she's shared countless photos with Zylka and sweet messages addressed to him on social media. "Never in a million years did I think I would find someone so completely perfectly for me. Someone who would make me happier than I ever dreamed I could be. Someone that would touch my life so profoundly & give me a whole new reason to breathe," she wrote in a late December post.
"Ever since our first date I knew there was something special about him," Hilton told People of Zylka. "I have never in my life met a man so loyal, dedicated, and loving. I knew right from the start that I wanted to be with him forever." Zylka echoed his fiancée's sentiments. "Paris is the most beautiful and incredible woman both inside and out," he said. "I feel like the luckiest man in the world to be marrying my dream girl. I can't wait to spend the rest of our lives together."
Watch: Paris Hilton Breaks Down Her 13 Favorite 2000s Trends, And Why They're Still Hot
Related: Paris Hilton Invented Everything You're Doing in 2017, and She Knows It
The Best Celebrity Engagement Rings, From Elizabeth Taylor's Massive Sapphire to Meghan Markle's Cluster of Diamonds
Elizabeth Taylor with her wedding ring, a massive sapphire encircled with two rows of diamonds. Photo by New York Daily News Archive via Getty Images.
Jennifer Lopez flashes her engagement ring to Ben Affleck in 2003. Photo by Kevin Winter/Getty Images.
Grace Kelly shows off her engagement ring to Jimmy Stewart on the set of Rear Window. Photo by John Kobal Foundation/Getty Images.
Lady Diana Spencer, pre-Princess Di. Photo by Tim Graham/Getty Images.
Victoria Beckham in 2007. Photo by Tony Barson/WireImage.
Beyoncé reveals her engagement ring at the U.S. Open in 2011. Photo by Getty Images.
Anne Hathaway's ring is on display at the Iron Lady premiere in 2011. Photo by Getty Images.
At the Women in the World Summit in 2013, Angelina Jolie shows off her engagement ring with Brad Pitt. Photo by Getty Images.
Olivia Wilde at the premiere of Drinking Buddies in Hollywood, California, August 2013. Photo by Getty Images.
Scarlett Johansson's high-wattage engagement ring glitters at the Don Jon premiere in 2013. Photo by Taylor Hill/FilmMagic.
Kim Kardashian offers a glimpse of her engagement ring to Kanye West in 2013. Photo by Jason LaVeris/FilmMagic.
Chrissy Teigen got engaged shortly before the Billboard Music Awards in 2015. Photo by Getty Images.
Allison Williams's engagement ring, at a Girls screening in 2014. Photo by Getty Images.
Taylor Kinney proposed to Lady Gaga with a heart-shaped diamond, which she showed off at a screening of American Horror Story: Hotel in Los Angeles, California, October 2015. Photo by Getty Images.
Another royal—here, Catherine, Duchess of Cambridge, in 2015—with another decadent engagement ring. Photo by Max Mumby/Indigo/Getty Images.
Jennifer Connelly boasted an art deco-inspired ring from husband Paul Bettany in 2016. Photo by Getty Images.
Julianne Hough does double duty with an engagement ring and a midi-ring twist at the NHL All-Star Party in Pasadena, California, January 2016. Photo by Getty Images.
Amal Clooney at the premiere of Hail, Caesar! in Los Angeles, California, February 2016. Photo by Getty Images.
Kate Upton made sure her ring got its share of the spotlight at the Met Gala in May 2016. Photo by Getty Images.
Ditto for Ciara, who showed off a ring from Russell Wilson. Photo by Getty Images.
A close up of the engagement ring given to Meghan Markle before she became the Duchess of Sussex. Markle and Prince Harry posed for photos after announcing their engagement at The Sunken Gardens at Kensington Palace on November 27, 2017 in London, England. Find out everything we know about the ring here.

Chris Jackson
Victoria's Secret model Devon Windsor announced her engagement to her boyfriend Johnny Dex via Instagram, and showed off her ring on June 24th, 2018. Photo courtesy of Instagram.
Hailey Baldwin's engagement to Justin Bieber was confirmed on July 9th. Hailey is seen here stepping out wearing her new engagement ring. Photo courtesy of Instagram.