Paris Hilton Lost Her $2 Million Engagement Ring at the Club
She literally shut down the dance floor to look for it.
---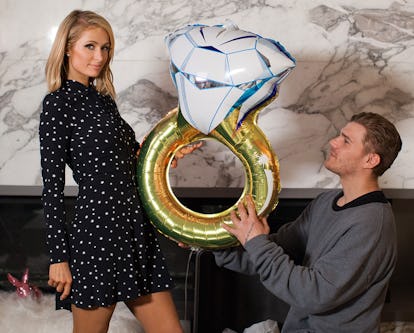 Paris Hilton had the whole club in a frenzy over the weekend, only it wasn't because she was behind the DJ deck. Hilton was actually in attendance at Mana Wynwood to catch another DJ's set, the electronic duo Above & Beyond, and danced so hard her $2 million engagement ring flew off her hand, causing the club to temporarily shut down as everyone frantically searched for it, Page Six reports.
Incredibly, the 20-carat ring given to her by her fiancé Chris Zylka was later recovered in a bucket of ice in the VIP area. "Security started an exhaustive search of the VIP area with torches, led by Chris and with the help of other patrons," a source told Page Six. "There was a frantic scramble with everyone looking for it, people were crawling on the floor, under tables, under other people's feet, and under seats… It was amazing that they managed to even see that huge diamond in an ice bucket. Paris cried with relief when it was safely back on her finger."
This isn't the first scare Zylka has had with the weighty ring. Back in December when he was preparing to propose to Hilton, he managed to keep it in his pocked while zipping down the ski slopes of Aspen, as the couple recently revealed to W.
They also set the record straight about their impending nuptials in that interview, stating that despite rumors, the pair will only be celebrating with one wedding, not three in three different places. "That was just lost in translation," Hilton said. "One wedding planning is already stressful enough—I can't imagine doing three. It's the most special day of my life, so three times is too many," she added with a laugh. Zylka chimed in: "How do you get married three times?"
For now, Hilton's main source of stress is finding a dress worthy of her ring. "My team is getting so many calls from so many designers so I already have stacks of choices, which are all so breathtaking so it's really hard to pick," she said, adding that her sister Nicky has been steering the process. "I trust her taste so I'm going to have her help me pick it out."