Paris Hilton Threw Sister Nicky Rothschild a Tea Party-Themed Baby Shower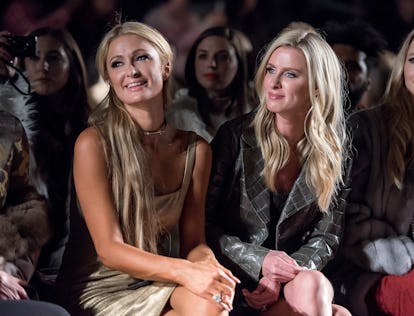 Mike Pont/Getty Images
Paris Hilton's resumé is already extensive—she's a singer, DJ, socialite, fashion icon, inventor of the selfie, and so much more. But now, she's adding yet another accolade to the list: party planner (a natural evolution from her frequent role of party attender, naturally). This week, Hilton proved that she's ready to take things up a notch by throwing an elegant baby shower for her younger sister.
The shower, which took place on Tuesday, had a tea party theme. The table was laid with teapots, finger sandwiches, cupcakes topped with tiny baby dolls, macaron towers, and the words "a baby is brewing" were spelled out in glittery letters on the glass tabletop. Since Nicky Rothschild, who is already mom to 16-month-old Lily Grace Victoria Rothschild, has yet to reveal the sex of her second child, the multi-tiered cakes at the party were iced in both pink and blue swirls. In an Instagram post, Hilton wrote that her mom, Kathy Hilton, had pitched in with the decorating. "My mom @KathyHilton is the best decorator! ?????? #NickysBabyShower" she captioned a series of photos of the table's elaborate spread.
The Hilton sisters kept with the pink and blue color scheme with their outfits. Paris wore a light pink dress with a pleated skirt and white panels around the waist and neckline, and topped it off with a matching pink cardigan, while Nicky wore a blue patterned long-sleeved dress with turquoise and lavender trim around the waist. The Hilton family matriarch opted for a crisp white blouse tucked into a periwinkle blue skirt with white detailing, and baby Lily played Switzerland, donning a neutral yellow patterned onesie.
The rest of the party's guests also appeared to adhere to the pastel color scheme. Paris posted a photo of most of the party's about two dozen attendees. "Celebrating the new baby with the #Squad" she captioned the photo, which also included Bethenny Frankel and Kyle Richards of Real Housewives fame.
Nicky also posted a few photos of her own from the shower, including one of the meticulously decorated party room, and another sweet shot of her, her older sister, and their mom. "Thank you @ParisHilton for throwing the sweetest tea for the mama to be," she wrote.
Related: Barron Hilton, Brother of Paris and Nicky, Becomes Engaged to Fellow Socialite
Forgotten Photos of Paris Hilton and The Hilton Family: