Barron Hilton, Brother of Paris and Nicky, Becomes Engaged to Fellow Socialite
The new fiancé has a name that sounds ripped from a Gossip Girl parody book.
---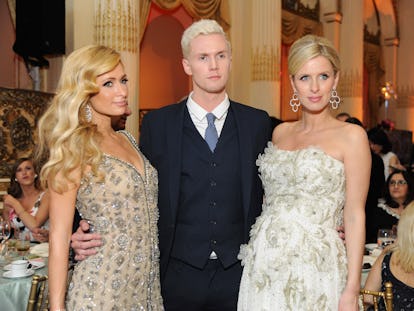 Rabbani and Solimene Photography
The Hilton sisters are about to welcome a new sister-in-law. Barron Hilton, the third eldest child of the brood and eldest son, has at long last found true love and is engaged to socialite Tessa Gräfin von Walderdorff, according to both sources of all relevant Hilton family social news, Page Six and Instagram.
The 27-year-old hotel scion's new fiancé has a name that sounds ripped from a Gossip Girl parody book, but she is no Blair Waldorf. According to I Love You magazine, von Walderdorff is a Bard graduate who doubled majored in the Written Arts and French and she has a particular interest in journalism and historic fiction. "Her interests range from the poetic voice to industrial techno," writes the publication.
The pair, who have been together for well over a year it seems, announced their engagement on their Instagram feeds. Though, they waited a while to make it public. Hilton placed the actual engagement date back on September 17th.
"Better than a fairytale?… engaged to my best friend, my soul mate, the love of my life. Forever and for always ? @barronhilton," wrote von Walderdorff.
The couple had not been shy about flaunting their relationship on Instagram.
There's been stays at the Four Seasons in Maui:
Arsty photo shoots:
Hanging out on sidewalks:
And, naturally, time spent with other scions at the Surf Lodge:
They also have a mutual love of dogs, and apparently already own three between them:
Their names, from left to right, are Moose Graf von Walderdorff, Matsu Hilton and Nobu Hilton (yes, the last is named after the sushi restaurant).
Barron will be the second of the four Hilton children to marry. Sister Nicki has dashed her party girl reputation (minimal, by today's standards) and emerged as a fully formed New York City socialite who is married to financier James Rothschild (a member of the Rothschild family). The couple is expecting their second child. Paris has been dating former model and The Leftovers actor Chris Zylka for more than a year now.
Like his sisters, Barron had a bit of a wild child youth. There was a DUI back in 2008 when he was just 18, and an incident in which he was reportedly attacked by friends of Lindsay Lohan at a mansion on Miami's Star Island during Art Basel Miami Beach.
But it's been quite a few years since Barron has been in the gossip columns for the wrong reasons. As of late, he's only been included in connection with his foodie Instagram and rumors that he may launch a boutique hotel brand of his own. He also recently walked during New York Fashion Show for Hakan Akkaya. You know, just normal, boring Manhattan scion-type stuff.
Only youngest brother Conrad has been up to trouble lately, and in the process making his sibling's transgressions look downright innocuous: he was arrested on charges of grand theft auto earlier this year. He's kept a low profile since then.
No word on when the wedding will be, though we're sure we'll see it all over various Instagrams when it happens.
Related: Nicky Hilton Was Never a Wild Girl
Paris Hilton Breaks Down Her 13 Favorite 2000s Trends, And Why They're Still Hot: