Nicky Hilton Is Pregnant With Her Second Child
Another Rothschild is coming.
---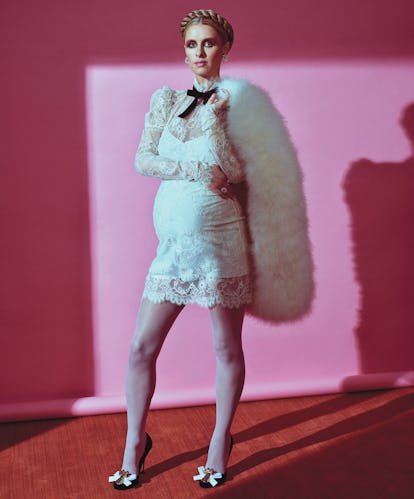 Photographs by Mario Sorrenti, Styled by Edward Enninful
Baby number two is on the way for Nicky Hilton Rothschild and husband James Rothschild. The famous pair of heirs are already parents to daughter Lily Grace Victoria, who will celebrate her first birthday on July 8. "The couple are thrilled about the new addition to their family," a rep for the couple said in a statement to People. No word from either Hilton or Rothschild themselves yet, but perhaps auntie Paris spills some details sooner rather than later.
This match was made in heaven, destined to spawn multiple additional scions from the onset. After meeting at fellow heiress Petra Ecclestone's wedding, the two married in July 2015 (July really seems to be a fortuitous month for the couple) at none other than Kensington Palace. Hilton wore an unforgettable custom Valentino Haute Couture wedding dress and custom Louboutins, embroidered with the date of her wedding and "Nicky Rothschild."
According to Hilton's mother, Kathy, Nicky is quite the doting mother already. "She's unbelievable," Kathy told People. "With my babies, if I wanted to go pick them up I would just go in the room in the middle of the night, but Nicky is very much on a schedule. This is nap time, this is tummy time, so I'm just kind of like, 'Okay.' " One thing's for sure, Nicky Hilton Rothschild has mom-and-me matching down, if these Charlotte Olympia flats are any indication.
Related: Nicky Hilton Rothschild Was Never a Party Girl
Nicky Hilton's Wild 21st Birthday in Vegas: