Watch Paris Jackson and Her Band Perform Live in Front of Her Grandmother Katherine Jackson
Paris Jackson's new band, The Soundflowers, played their second-ever show in front of an audience that included Katherine Jackson, mother of Michael.
---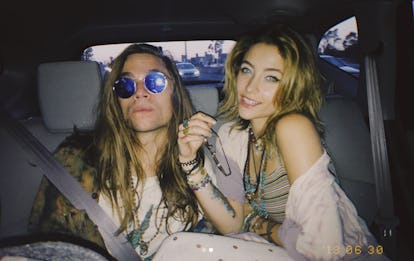 @thesoundflowers
You could be forgiven for not knowing Paris Jackson, daughter of Michael Jackson, has a band, The Soundflowers. It's a pretty recent development. But in its relatively short history, it's already received the most important stamp of approval: that of Jackson's grandmother, Michael Jackson's mother, Katherine Jackson.
Let's set the scene. The occasion was the Soundflowers' second-ever show, part of a showcase supporting the organization F— Cancer that also featured musicians like Macy Gray, Ashlee Simpson, and Austin Brown. Jackson's watermelon hair was on full display, and her Soundflowers bandmate Gabriel Glenn sat on the stage, playing a short set of their folksy SoCal singles. The Jackson matriarch, who raised her granddaughter (as well as her siblings Prince and Blanket) after the death of their father, Michael Jackson, in 2009, took it all in from the audience, and apparently, per Paris's Instagram, "she actually liked it."
As Jackson later wrote on Instagram: "f—. i can't believe my grandma made it to our second live show ever. and she actually liked it!?!!! i was s–tting my pants. i love you so much grandma. i'm so happy we got to play for you and to play for such an incredible cause." In the accompanying slideshow of images, Jackson and Glenn pose with the elder Jackson, getting increasingly emotional as the images go on.
The band, fronted by Jackson and Glenn, made its Instagram debut at the end of May and performed for the first time as part of Los Angeles's Canyon Sessions in June. Jackson, of course, has a strong family affiliation with the industry, but until now, she has largely kept her own writing to herself. (By contrast, she's appeared in music videos for other artists, including The xx and 30 Seconds to Mars, and she's ventured into acting.) According to a series of clips Jackson posted to the band's Instagram stories, she had surgery on an abscess "the size of a golf ball" the previous day and was leaving the show early, but at the time of their posting, the showcase had raised roughly $20,000 for F— Cancer.
"My f—ing grandma was there," Jackson continued, "and I'm so relieved that she didn't hate it, that she actually liked it, and, I don't know, that means the world to me."