Paris Jackson Explains Why She Chose Fame Over Becoming a Psychiatric Nurse
She originally wanted to be a psychologist.
---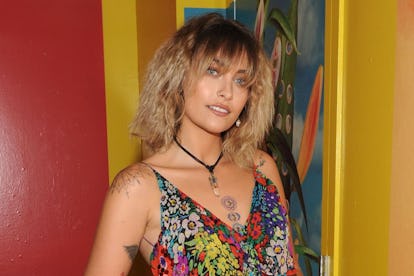 Craig Barritt/Getty Images
Paris Jackson is already well on her way to becoming a full-fledged star: She currently has a recurring role on Fox's Star, is signed to IMG models, is one of the latest faces of Calvin Klein, and is all set to make her big screen debut in 2018's Gringo alongside Amanda Seyfried and Charlize Theron. But it wasn't until just a few years ago that she decided she even wanted to live her life in the spotlight.
While attending People's Ones to Watch party on Tuesday, Paris told the magazine that she had originally planned a very different life for herself. "I originally wanted to just kind of stay out of the spotlight and become a psychologist or a nurse at a psychiatric ward," she said, but she changed her mind shortly before her high school graduation. "I realized it would be a shame to waste the platform I was given," she said. "Having the ability to go into the acting and fashion world, I just figured, why not use that to make my platform bigger? That way, instead of helping the world one by one with patients, I could help the masses."
Despite having a full schedule between her acting and modeling endeavors, Paris said she still makes time to help the masses through her work with her late godmother Elizabeth Taylor's AIDS Foundation. "I feel very lucky to have gotten to fly to Africa and be a part of the work we're helping make possible," Paris said.
And so far, the 19-year-old said she hasn't yet been negatively impacted by her choice to live a public life, since most of her fans are "mindful" of her privacy. She also claimed to have stumbled upon the key to staying grounded in the wild world of Hollywood. "The best advice I've been given is to be strategic in the mind, young at heart, and wise in the soul," she said. "If you have those three things you can navigate pretty easily any path that you're on."
Paris spoke to Teen Vogue earlier this year about learning to embrace the spotlight. "I honestly used to have no motivation whatsoever to be in the public eye; it scared me," she said in our Volume II cover story. "But after a long time of thinking, I started to really see the kind of impact I already have on people, how I was born with a platform, and I didn't want to waste it." She added, "There are so many people who work their entire lives to create a platform and mine was just handed to me…. Why not use it for something important?"
Related: Paris Jackson Isn't a Sample Size and She's Ok With That
Paris Jackson Can Wear T-Shirts, Couture, and Everything In Between
Paris Jackson wore an orange blouse under an ivory vest at the Jackson Family Donation Event for Children on August 8th, 2011.

Getty
Jackson posed with Justin Bieber at the Michael Jackson Hand and Footprint ceremony wearing a white graphic t-shirt, in honor of her father, on January 26th, 2012.

Getty
Jackson pays homage to her father, pairing a Michael Jackson graphic t-shirt with blue jeans to the Goin' Back To Indiana: Can You Feel It press conference on August 29th, 2012.

Getty
Paris Jackson attends the Mr. Pink Ginseng Drink launch party with family wearing a one-shoulder, navy dress, black belt, simple silver jewelry and a black cross body bag on October 11th, 2012.

Getty
Paris Jackson posed with Chester Castellaw at the opening night of Deaf West Theatre's 'Spring Awakening' in a grey dress, grey lace up boots, and a black fringe bag on May 28th, 2015.

Getty
Jackson wears ripped jeans, a white t-shirt and black converse for the Fourth of July out in Los Angeles with Michael Snoddy in 2016.

Getty
Paris Jackson makes her red carpet debut in a cutout, floral Tadashi Shoji gown at the InStyle and Warner Bros. Golden Globes after-party on January 8th, 2017.

Getty
Paris visited her namesake city for the Givenchy Menswear Fall/Winter 2017-2018 show dressed in head-to-toe black; a black Givenchy knit sweater that says, "I Feel Love," black pants, leather bag, and combat boots on January 20th, 2017.

Getty
Paris Jackson attended the Dior Homme Menswear Fall/Winter 2017-2018 the following day wearing a white Dior ensemble under black leather jacket and paired with combat boots.

Getty
Paris wowed the red carpet in a v-neck, black lace gown to the Pre-Grammy Gala and Salute to Industry Icons Honoring Debra Lee on February 11th, 2017.

Getty
Jackson wore a glittery, multi-colored Balmain number and black strappy heels at the 59th Grammy Awards on February 12th, 2017.

Getty
Paris Jackson did a quick change into a multi-colored, cut-out gown and floral hair accessories to present at the 59th Grammy Awards on February 12th, 2017.

Getty
The young star opted for a black and white polka-dot dress, keeping the rest simple, for her visit to The Tonight Show Starring Jimmy Fallon on March 20th, 2017.

Getty
Staying true to her casual yet edgy style, Paris accessorized light-wash jeans a leather jacket with a colorful bag and peace-sign necklace on a visit to IMG Modeling Agency on March 21st, 2017.

Getty
The model stunned in a colorful Yanina Couture dress and Edie Parker clutch at the 28th Annual GLAAD Media Awards on April 1st, 2017.

Getty
Paris Jackson attends the Daily Front Row's 3rd Annual Fashion Los Angeles Awards – Arrivals at Sunset Tower Hotel on April 2, 2017 in West Hollywood, California.

David Crotty/Getty Images
Paris Jackson wore Calvin Klein by Appointment to the Rei Kawakubo/Comme des Garcons: Art Of The In-Between" Costume Institute Gala at Metropolitan Museum of Art on May 1, 2017 in New York City.

Dia Dipasupil/Getty Images
9 Famous Kids Who Ruled the Runway at New York Fashion Week 2017: