Paris Jackson Asks People to Stop Altering Her Skin Tone
She feels it sends a message she's not good enough as she is.
---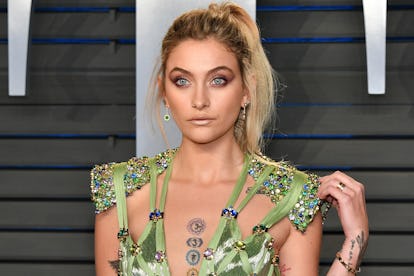 Getty Images
Nearly every celebrity seems to have at least a few creative followers who regularly send them hand-drawn fan art and whimsical photo edits. Paris Jackson is no exception: She's been known to repost fan art on her own social media pages, and in a recent tweet, she proclaimed that she "appreciates" and "enjoys" every piece of art her fans send her. But in that same tweet, Jackson made a very important request to her artistically inclined followers.
"I appreciate everything y'all make for me, i enjoy every single edit i see. but please stop lightening my skin to make me look more white. and please stop darkening my skin to make me look more mixed," she wrote on Tuesday. "I am what i am. i'm aware of what i look like and i finally happy with it.." On Wednesday morning, in reply to a follower's question, Jackson (whose mother is white and father was black) also tweeted, "sometimes peeps say i 'don't look mixed enough to be biracial' ??‍♀️."
Several of the model and activist's followers replied to Jackson's tweets to support her (very reasonable) request that people stop both whitewashing her and seemingly sending the message that she's not "mixed enough." These are issues that also plagued her late father, Michael Jackson who suffered from vitiligo. One fan artist even apologized and offered their two cents on the matter: "We all Love you for who you are. I think sometimes its not intentionally done, sometimes after a lot of editing it may or may not affect the skin tone. But sorry about it. Again we love you for being you and nothing about that will change ♥" they wrote.
Jackson, 19, regularly posts messages like these in support of self-love and acceptance. She's walked red carpets without wearing any makeup at all, shown off her body hair at award shows, and posted several topless and nude photos to encourage body positivity. "The human body is a beautiful thing and no matter what 'flaws' you have, whether it be scars, or extra weight, stretch marks, freckles, whatever, it is beautiful and you should express yourself however you feel comfortable," she captioned one such photo last year.
Related: Paris Jackson Shares a Home Movie for Her Brother Prince's Birthday