And Now Center Stage, Vine Star Parker Kit Hill
The teen ballet dancer and social media star answers our Social Q's.
---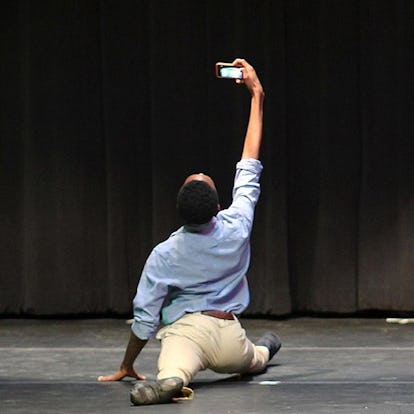 With over 866,000 followers on Vine and 131,000 on Instagram, 19-year-old ballet dancer Parker Kit Hill has made a grand jeté into social media notoriety. Studying at the Joffrey Ballet School in New York City, Hill is best known for posts featuring impossible splits and spins dubbed with songs like Snoop Dogg's "Drop It Like It's Hot." He's parlayed his following to meet more established veterans of the trade, like Kylie Jenner, and to post from fashion shows like Opening Ceremony and Kanye West's Yeezy x Adidas. He has no regrets about his social output, well, except for that one Vine.
Define your online presence in three hashtags:
Ballet, #weird, #fashion.
When did you join Vine? Do you remember your first post? I joined Vine about two years ago, whenever the app first came out. My first vine was of me in my bathroom with a Burger King mask doing the "Gangnam Style" dance.
Do you have separate personas/aesthetics for Vine versus Instagram? For Vine, I like to keep it crazy and let loose and just not care what I post. Now, for Instagram I like to show people my less crazy and sane side. I'll post pictures of my outfits, friends, food, Beyoncé, and my cat.
Is there a story behind the wig you always wear? My roommate came home one night and she was like, "I bought a wig! " And at first I didn't care too much about it. Then a few days passed and the wig is sitting on our kitchen counter and I'm just like, 'You know what, I'll put it on.' I put it on, looked in the mirror and then screamed. It was like I turned into an entirely new person with it on and it looked so real! I'm honestly wearing it right now.
Have you met anyone "famous" off Vine/Instagram? Yes, I have! It's kind of crazy to me that I get to meet and become friends with all of these people solely from just being myself on the Internet. I've gotten the chance to meet and become friends with Hailey Baldwin, Justine Skye, Amandla Stenberg, Leon Bridges, Ireland Baldwin, Stella Hudgens, and I've also had the pleasure of meeting Kylie Jenner.
What is your favorite thing to post? My outfits! I love fashion so much.
The one thing you would never post: A picture of me with a selfie stick.
Greatest hits on Vine: There's so many, O.M.G. but if I were to choose I'd pick my Beyoncé voice and my Ariana Grande dancing Vines.
Three favorite accounts to follow: Vine: @ayitspnayo, @tyrabanks, @danababy97 Instagram: @beyonce, @openingceremony, @lohanthony
Social media pet peeve: When people don't give people credit for their work!
Anything you wish you hadn't posted: Something that I wish I hadn't posted would have to be the "Now I'm bald" Vine. It literally haunts me and people yell that at me when I'm walking through the city or when I'm on the train. Such a mess.
Something for the haters: If you don't have haters you aren't doing it right… But in all honesty it's your life and this is your only chance to live it the way you want. Don't worry about what other people think because you can't be the person that everyone else wants you to be.
Photos: And Now Center Stage, Vine Star Parker Kit Hill