Meet Pascale Monvoisin, the Jewelry Designer Beloved By French It-Girls
With fans in Jeanne Damas and Inès de la Fressange, the designer's understated pieces can be considered the perfect embodiment of French style.
---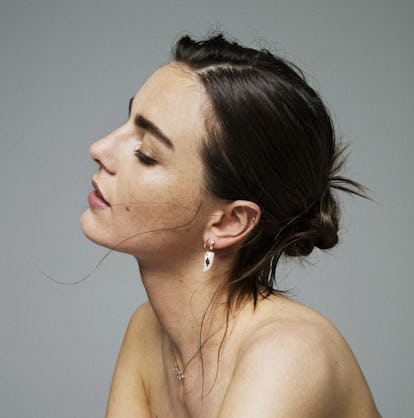 ©Emma PICQ 2015
Pascale Monvoisin's jewelry designs can be considered the perfect embodiment of French style. The pieces aren't overtly in your face–no over-the-top double-digit carat diamonds here–but, rather, possess a certain sense of je ne sais quoi. Rather than focus on flashy gemstones or bright colors–though there are plenty of that: turquoise, tourmaline, coral, etc.–the Paris-based designer focuses on the imperfect, making sure that each piece looks like it has been personally crafted (which, in fact, it has). Monvoison also takes pride in matching unexpected materials to create a harmonious final product: a seashell cast in gold; a precious stone strung on a silk cord. It's no wonder that Monvoisin has quickly become a favorite of chic Parisians, including Jeanne Damas and Inès de la Fressange. Here, as Paris Fashion Week Kicks off, the designer talks about her inspiration for the collection, her favorite pieces, and more.
What made you decide to go into designing, specifically jewelry design?
The diversity, and infinite variations of the colors of the stones. I am very inspired by ancient jewelry and vintage pieces; and mixing the past with the present.
How would you describe your jewelry?
As little lucky treasures or talismans; something that you would wear everyday. It's a piece you cherish and want to keep close to your skin.
What is your process to create every piece?
I am always aware of what is going on around me, including colors and sensations. Sometimes I draw rings on my fingers to get a visual of the design. Once a model of the piece is made, I choose the stones, and from there, the details of the shape and volume are readjusted.
What were the main pieces that you began with?
The little Cauri shell pendant with a bezeled stone started off as my main inspiration for the line, especially how you transpose something so precious with a simple shell on a gold chain.
What places do you find most inspiring for your work?
Jaipur, for the colors alone. It is like a photoshoot for your eyes. I also like the high energy of New York, which is always so inspiring to me. Also, I have this particular predilection to isolate myself in the bar of a grand hotel in Paris. It feels like traveling, being home but far away.
How have your aesthetics and personal inspiration evolved over the years?
My inspirations are always being refinined. Instagram has a great wealth of images, from designers and artists, that I find nourishing. Beyond jewelry, I have admiration for art as a whole, and basically any medium that can express an emotion. I am very sensitive to beauty, to a mood, a smell, a color…The emotion of it all is important to me.
New York's Best Street Style Gets a Technicolor, Electrified, Animated Treatment