Light Show
A sweet and saturated pastel palette defines the spring makeup season.
---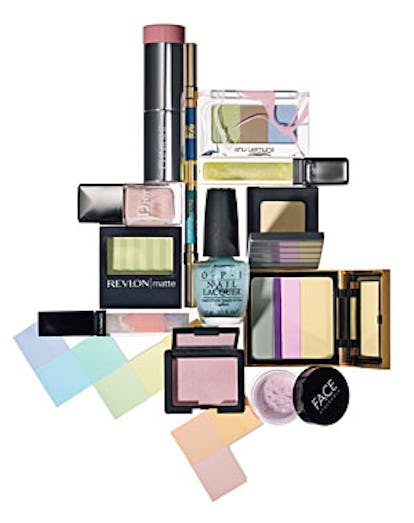 Just as Easter eggs and freshly cut tulips signal the start of spring, so, too, do pastel hues. Each year light pink, yellow, blue and green crop up just about everywhere, including on makeup counters from Des Moines to Dallas. The soothing shades are pretty to look at but can be tricky to use without feeling like a 12-year-old playing dress-up. Luckily this season brings an influx of vibrant pastels that offer a wearable, glam riff on candy colors.
"It's easier to wear pastels when the skin is warmer, in the spring," says Gucci Westman, Revlon's global artistic director. "They're coming back in a more refined way instead of a tacky one. It's not disco anymore." The saturated shades feel less Grandma's makeup drawer, more straight from the runway. Revlon Matte Eye Shadow in Luscious Lime calls to mind cool sherbet, while Prescriptives Banana shadow is an easy-to-wear wheat blond. OPI Breathe Life nail polish adds icy pale blue to hands, and Estée Lauder Duo-Tone Eye Pencil in AquaTeal gives two lash-line options: Wedgwood blue and metallic green.
The one-shade-at-a-time ethos seems to be the best way to experiment, plus it's right on trend. "Pastel purity is the modern way to wear color on the catwalk right now," says Val Garland, Yves Saint Laurent Makeup's artistic adviser. YSL's newest eye shadow palette has several shades to choose from. The colors—bright lemon, vivid blush, royal purple and grayish green—are arranged in horizontal blocks à la Rothko and are far from flimsy. "What you see is what you get; one quick sweep gives you just the right amount of impact," says Garland. Shu Uemura's Fantasia Eye Shadow Palette offers a similarly sophisticated take but tempers its grassy green and sky blue with a sensible taupe.
Naturally, pink is the most approachable hue of the bunch. It's the rare makeup wonder that works anywhere, adding a girlish flush to cheeks, eyes, lips and nails. Clinique Quick Blush in Pronto Pink, a cheery peony, gives a dash of color to cheeks, while Dior Vernis polish in Porcelain #189 is a shimmery alternative to the nail parlor standard. For eyes there's Nars Baby Girl, a classic bubblegum, and the ultrafeminine Face Stockholm Eye Dust in Beauty.
The sweetest treats in the group are also the most unusual. MAC Tricolour Lipglass in Consume Me is a stacked parfait of pearly white, cotton candy pink and frosty azure glosses. When the applicator is pulled out of the tube, the colors mix together for a flattering opal sheen. The kookiest of all is Guerlain KissKiss Gloss in Pomme du Désir. The glittery concoction looks shocking in the tube, but the Granny Smith hue tones down the red of lips and imparts what Marcus Monson, Guerlain's national makeup artist, calls a "weightless glow." Guess it is easy being green.