Patti LuPone Has Finally Forgiven Everyone Involved in One of Broadway's Biggest Scandals
After nearly 25 years, she's calling a "detente."
---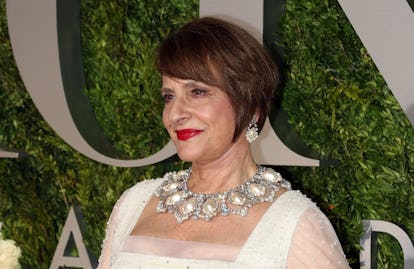 Jim Spellman
Hell hath no fury like a Patti LuPone scorned. In 1994, LuPone was on the victim end of what she must have felt was one of Broadway's biggest scandals, and has since certainly turned into one of theater's longest standing feuds.
LuPone was in London starring in the West End production of Andrew Lloyd Webber's then new musical Sunset Boulevard 24 years ago, with great success (she was nominated for a Laurence Olivier Award) and under the impression that she'd move with the production when it crossed the pond later that year for its debut on Broadway. That is, until word started spreading that Webber was considering other actresses for the lead role of Norma Desmond. Meryl Streep was reportedly offered the part. Barbra Streisand took her hand at recording two of the biggest songs. Meanwhile, Glenn Close was simultaneously playing the part in a Los Angeles production.
It was in her London dressing room where LuPone got word that New York gossip columnist Liz Smith was about to break the news that, indeed, it would be Close who would get the prized role on Broadway.
"I took batting practice in my dressing room with a floor lamp," LuPone wrote in her own memoir. "I swung at everything in sight—mirrors, wig stands, makeup, wardrobe, furniture, everything. Then I heaved the lamp out the second-floor window."
When the press asked about her relationship with Webber at the time, she quipped, "I have nothing nice to say about the man, so I choose to say nothing at all." Over the years, however, she would end up saying lots.
She wound up taken Webber to court over breach of contract and won a reported $1 million settlement. She famously claimed to use the money to add a pool to her home, which she nicknamed "The Andrew Lloyd Webber Memorial Pool."
LuPone has been pissed at everyone involved ever since, something she freely admitted over the years. She'd quip that Sicilians don't let grudges go. For years, that grudge extended to Close as well, who went on to win a Tony for the role (LuPone lost her shot at the Olivier).
It seems, though, that finally LuPone is in a forgiving mood. At 68 years-old, she says her most recent play War Paint will be her last. That effort incidentally ran at the same time that Close was on Broadway reviving her role as Norma Desmond in Sunset Boulevard. It was during that run that LuPone announced that she and Close had made amends at the 2011 Kennedy Center Honors, and the two divas were seen grabbing a drink together last year with Andrew Rannells and Jon Hamm.
Though, her blood feud against Webber raged on. It was only last October when LuPone was publicly calling him a "desperate human being."
Well, funny thing. Webber will be honored at the Grammys this Sunday, and LuPone signed up to appear in the segment to sing "Don't Cry For Me Argentina," the Evita song which Webber wrote and which first shot LuPone to Broadway superstardom in the first place. During rehearsal, The New York Post reports that when Webber arrived, LuPone turned to him and said "Hello, Andrew." She then turned to the rest of the room and added, "This is détente, ladies and gentlemen." Then there were laughs and hugs.
What's next? Will LuPone ever forgive Madonna for taking the lead in the movie version of Evita?
Related: Madonna vs. Patti LuPone, and More of the Great Diva Feuds of Yore