Actually, Patti LuPone's Feud With Glenn Close Is Maybe Not Over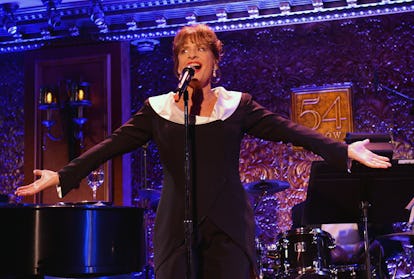 Slaven Vlasic
If perhaps you were under the impression that Glenn Close and Patti LuPone had recently patched up their decades-long feud to the point that they're now friends who meet for drinks after work, LuPone herself has just one particularly LuPone-esque phrase for you: "That's bulls––t!"
Though the duo were never particularly close, LuPone has held a grudge against Close since the latter was chosen by Andrew Lloyd Webber to play the lead in Sunset Boulevard's Broadway debut. LuPone originated the part on London's West End, and was under the impression that she'd make the transition across the pond with the production. She was left, by her own admission, hurling furniture and lamps around her dressing room when she got the news that Close, who had been playing the part in Los Angeles, would head to Broadway instead. Close would eventually win a Tony for the role, and indeed loved playing Norma Desmond so much that she returned for the Broadway revival of the musical in 2017. At the same time, LuPone was on Broadway starring in War Paint, and an item in Page Six suggested that the pair had decided to bury the hatchet. Around the same time, LuPone went on Watch What Happens Live! to reveal that she actually had patched things up, to some extent, but the idea of the pair getting a drink together still raised some eyebrows.
"The source says the two Broadway leading ladies 'seemed quite chummy and were yukking it up,'" claimed Page Six. "Andrew Rannells and Jon Hamm also joined them." A rep for Close confirmed the account to the gossip column.
Well, LuPone wants you to know the encounter wasn't quite as "chummy" as the item made it seem. Indeed, leave it to LuPone to be one of the few celebrities to claim that Page Six actually underestimated the amount of drama involved in a celebrity encounter instead of exaggerating it.
"That's bulls–t!" she recently told The Guardian. "They got that ALL wrong. I was out with Andrew and Jon, and Glenn was at another table. Glenn came to us and she sidled on up to Jon Hamm. She needed to make herself known to Jon Hamm! Ha ha!"
When LuPone performed in a Grammys tribute to Webber (to much critical acclaim), it seemed as if she had finally forgiven both Webber and Close for their part in the drama, but LuPone is still ready to hurl insults at Webber in any given interview. "We haven't made up, no. No!" she told the paper. "The poor guy—it seems to me he wants the kind of critical success Stephen Sondheim has."
So the feud lives on, but so do the careers of the two leading ladies. Close is in the midst of a storm of buzz that she may finally win her first Oscar, for her role in The Wife, while LuPone is back on the West End, starring an all-female production of Company (a Sondheim classic, naturally). LuPone is also keeping up her old feud with Madonna (centered around Madonna's performance in Evita, a role LuPone originated onstage). "Madonna? Euch! But I can't really talk about Madonna. Madonna's Madonna—I'll leave it at that." Not asking LuPone what she thinks of Lady Gaga in A Star Is Born seems like a missed opportunity. One might assume she'd be honorary chairperson of the Oscar for Gaga campaign, just to get a chance to shade both Close and Madonna in one swoop, but with LuPone, you never quite know.
Related: Madonna vs. Patti LuPone, and More of the Great Diva Feuds of Yore