Is a Glenn Close vs. Lady Gaga Oscar Race in Our Future?
Not if Nicole Kidman, Melissa McCarthy, or Natalie Portman have a say in it.
---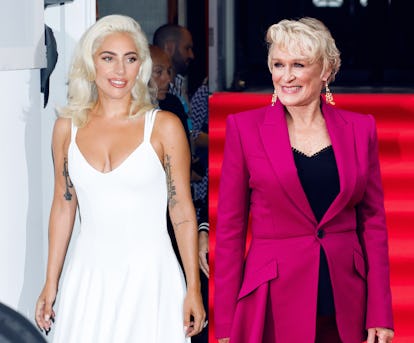 Barcroft Media
Some 30 years ago, Glenn Close lost her first nomination for the best actress Oscar to a glamorous, over-the-top pop star named Cher. Now, certain segments of the culture are imagining history repeating itself in an assumed Oscar race between Close, for her work in the film The Wife, and Lady Gaga, making her debut in the sure-to-be-a-fall-blockbuster A Star Is Born.
You may be thinking, But it's just barely September—there are still four months left in the eligibility period, and almost half a year until the trophies are handed out. Isn't it way too early to be concerning ourselves with such things? Well, not exactly. The Venice and Telluride film festivals, both Oscar harbingers, are in full swing, and many hotly anticipated films, including A Star Is Born, have screened for in-the-know festival audiences, and Oscar prognosticators are suggesting that that Glenn vs. Gaga race isn't just wishful thinking.
Close's The Wife actually premiered last year at the Toronto International Film Festival. Her performance as a woman who watches her husband be awarded the Nobel Prize for Literature even though she's the real talent in the increasingly unhappy relationship was hailed as a career best for an actress who was already considered one of America's finest. Close has six Oscar nominations under her belt (evenly divided between the lead and supporting categories), which makes her the living actor, male or female, with the most nominations without a single win. All this despite the fact Close has won almost every other acting trophy that matters (three Tonys, three Emmys, two Golden Globes, a SAG award, a Drama Desk, an Obie, and a few others). The Wife's release was held over a year specifically to increase Close's chances.
Not only do you have a performance already consecrated as "Oscar-worthy" by those in the know, but you also have the tempting narrative of finally crowning a long overlooked treasured veteran.
Still, buzz that 2019 could finally be Close's year dates back to 2017, and there's no fun in just putting a best actress race in cruise control.
So along comes Gaga, whose performance in A Star Is Born is being cheered as another breakthrough for the ambitious performer. She's been dubbed "sensationally good," "charismatic," and "nothing short of extraordinary." None of the major critics jumped to using the phrase "Oscar-worthy" in their review, but the Internet has decided she is just that. After all, two previous iterations of A Star Is Born (the films are more variations on a basic them and plot then direct remakes of each other) won Oscars for their stars, Barbra Streisand and Judy Garland. The comparisons to Cher's Oscar win abound (even if Cher's acting journey to the profession's highest honor included a previous nomination and a well-received stint in a Broadway play).
Of course, the memes imagining a race between the two dissimilar performers have already been minted.
The Oscar-tracking site GoldDerby already has the pair in the first and second spots of Oscar chances (Close, of course, is number one). Never mind that (somewhat amusingly) Close and Gaga's mother, Cynthia Germanotta, are actually buddies—this is war!
…unless it's not.
There are, of course, movies other than The Wife and A Star Is Born coming out this year, and several other contenders have seen their films premiere on the festival circuit in recent days to rave reviews.
Most notably is perhaps Melissa McCarthy. She's had a rough year after the mixed reception to her movies Life of the Party and The Happytime Murder, but there's been buzz surrounding her dramatic turn in Will You Ever Forgive Me, in which she plays a literary scammer. After the film's debut in Telluride over the weekend, she's definitely in the conversation as well.
Viola Davis's leading turn in Steve McQueen's Widows has yet to debut, but it's Viola Davis in a Steve McQueen movie, so of course there's buzz. Nicole Kidman, the actress you'd most assume already had two Oscars, may actually win her second for her performance in Destroyer, as an on-the-brink-of-a-breakdown detective (her work in Boy Erased has also put her in the supporting actress conversation).
Just today, Natalie Portman's performance in Vox Lux, in which she plays a somewhat Gaga-esque pop star, premiered to claims that it's some of the strongest and most unexpected acting in a storied career that already includes one recent Oscar.
Olivia Coleman, who is set to inherit the role of Queen Elizabeth in The Crown, has wowed critics in The Favourite, even as she shares the screen with two bonafide Hollywood stars, Emma Stone and Rachel Weisz. Toni Collette's work in Hereditary has been hailed as a potential Oscars dark horse ever since the film premiered at Sundance. Yalitza Aparicio is getting buzz for Alfonso Cuaron's Roma. Then there are the yet-to-premiere wild cards like the newcomer Kiki Layne in If Beale Street Could Talk, Keira Knightley in Colette, and even Emily Blunt in Mary Poppins Returns.
Still, Oscar races are almost as much about the awards season narratives as they are about the actual performances, and save for possibly McCarthy, no one's narrative is as strong as Gaga's or Close's. We're still months away from finding out what comes to pass, but in the meantime, we certainly expect those narratives to live on both Twitter and Oscar-prediction websites.