Patti Smith Has Joined Instagram, But Struggles with "Self Pictures"
Her captions alone are worth the follow, though.
---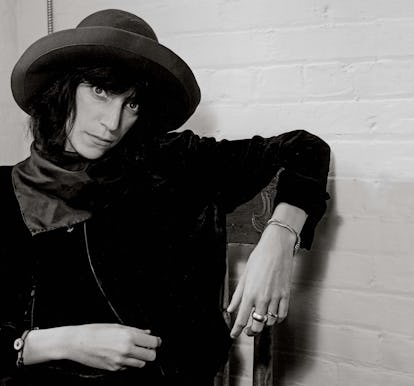 Patti Smith: American Artist via Insight Editions. © 2017 Frank Stefanko
Often referred to as "punk's poet laureate," Patti Smith has conquered music (she's in the Rock & Roll Hall of Fame), literature (her 2010 memoir Just Kids won the National Book Award), and art (her visual works are in museums across the world). Now, at the age of 71, she's trying her hand at this Instagram thing. Literally, her first picture posted on the account a little over two months ago was of her own hand. Her curatorial instincts are on point, and her reflective, long-form captions are kind of magical—passed-on wisdom about everything from culture to her packing routine. All in all, she's proven to be a great fit for the platform save for one thing: She hasn't quite figured out this whole "self pictures" thing. Then again, who among us has really figured out this "self pictures" thing (or "selfies," as those of us who haven't won the National Book Award may refer to them). We all still post them, anyway.
Smith details her trouble with selfies in the middle of a poetic caption in a slideshow detailing a London trip. "This is the hotel telephone. And this is a simple hello, with a morning nod to the changing skyline. London, like all our great cities, is struggling with overbuilding, a Babelesque encroachment upon the historical," she begins the caption.
Already, it blows your typical captions of London vacation Instagrams away. "On my way to steal your Prince!!!! ????" sounds a little less clever now, doesn't it?
Smith's London itinerary also included trying to take a selfie (slide 4, below), but she wasn't quite happy with the results. "Then another cockeyed picture as I still cant figure how to get these self pictures straight."
Smith's Instagram is full of other delights as well, like her typical packing list so you too can prepare for travel like a punk icon: "1 suitcase. 2 books. 6 tee shirts. 6 pairs of bee socks. 1 black jacket. one black vest. black pants. Tibetan shirt. toothbrush salt toothpaste. Vitamins flaxseed work visa. notebook. pen and refills. passport. handkerchiefs. travel talismans from Jesse." Also prepare "to place mental burdens in an invisible sack. A weightless one despite the weight."
She also recently recalled her 2011 guest-starring gig on Law & Order: Criminal Intent (because, at this point, if you haven't guest-starred on a Law & Order, can you really be considered a New York City cultural institution?).
There's even a few previous "self pictures" as well, most notably one taken with a particularly iconic vintage Polaroid model that Smith fears is in its last working days. "These days many images are lost as the film is often expired, being obsolete, but I had a good run," she wrote.
She's also apt to post some good #throwbacks, though she would never tag them as such (Smith, of course, seems to have no use for hashtags), and doesn't appear to limit them to Thursdays. They range from photos of her hanging out with other rock royalty like Neil Young to her first bicycle.
We wish Smith well on the journey that almost all Instagram users share: trying to perfect their selfie techniques. In the meantime, maybe we can all also challenge ourselves to take a few tips from Smith's caption game and forgo the hashtags, emojis, and curated song lyrics and instead write something personal and interesting every once in a while.
Related: Grace Jones and Patti Smith Are Celebrated in New Books
See Patti Smith in All Her '60s and '70s Era Glory in Rare Photographs by Her College Friend
Patti Smith photographed by Frank Stefanko.

Patti Smith: American Artist via Insight Editions. © 2017 Frank Stefanko
Patti Smith photographed by Frank Stefanko.

Patti Smith: American Artist via Insight Editions. © 2017 Frank Stefanko
Patti Smith photographed by Frank Stefanko.

Patti Smith: American Artist via Insight Editions. © 2017 Frank Stefanko
Patti Smith photographed by Frank Stefanko.

Patti Smith: American Artist via Insight Editions. © 2017 Frank Stefanko
Patti Smith photographed by Frank Stefanko.

Patti Smith: American Artist via Insight Editions. © 2017 Frank Stefanko
Patti Smith photographed by Frank Stefanko.

Patti Smith: American Artist via Insight Editions. © 2017 Frank Stefanko
Patti Smith photographed by Frank Stefanko.

Patti Smith: American Artist via Insight Editions. © 2017 Frank Stefanko
Patti Smith photographed by Frank Stefanko.

Patti Smith: American Artist via Insight Editions. © 2017 Frank Stefanko
Patti Smith photographed by Frank Stefanko.

Patti Smith: American Artist via Insight Editions. © 2017 Frank Stefanko
Patti Smith photographed by Frank Stefanko.

Patti Smith: American Artist via Insight Editions. © 2017 Frank Stefanko
Patti Smith photographed by Frank Stefanko.

Patti Smith: American Artist via Insight Editions. © 2017 Frank Stefanko
Patti Smith photographed by Frank Stefanko.

Patti Smith: American Artist via Insight Editions. © 2017 Frank Stefanko
Patti Smith photographed by Frank Stefanko.

Patti Smith: American Artist via Insight Editions. © 2017 Frank Stefanko
Patti Smith photographed by Frank Stefanko.

Patti Smith: American Artist via Insight Editions. © 2017 Frank Stefanko