Paul Hameline, Fashion's Renaissance It Boy, Will Always Tell You What He Thinks
"I'm not a clothes hanger. I'm not a clown. If you want that you can take another model."
---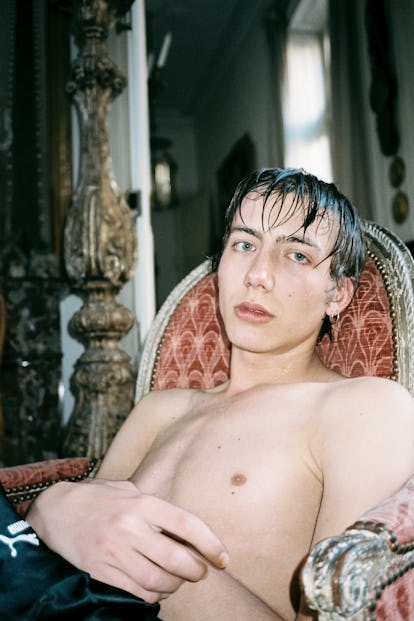 At the ripe age of 20, Paul Hameline has already had the creative experience of someone far beyond his years. Born and raised in Paris, his quickly expanding resume includes actor, model, DJ, and 'zine publisher. He's walked the runways for Margiela and Prada, graced the cover of Dazed, designed prints for Ann Demeulemeester, and the list goes on from there. Most recently, he landed the cover of Dust Magazine, lensed by Willy Vanderperre. The modern-day Renaissance man was recently on hand in Helsinki, where he took part of the Aalto University panel discussion on narratives in fashion with his friend, Vetements stylist Lotta Volkova. We checked in with him after the panel to hear more about his unorthodox approach to modeling (and pretty much everything else), his latest projects, and more.
Your approach to modeling is unconventional. You only model the clothes you like wearing, correct? First, I work exclusively with friends and always with extremely good teams. Often, it's really big money jobs because that helps me produce the 'zine. I've said no a few times and once I walked off a job because I didn't like what I was wearing. I'm not a clothes hanger. I'm not a clown. If you want that you can take another model, not me. But a lot of times people actually ask me if I like what I'm wearing or what I think. I tell them yes or no. I'm always polite, but I always say what I think. You can see it in the pictures if you're not comfortable, at the end of the day, the pictures look terrible. I did one shoot that wasn't with people I liked and the pictures looked terrible. It was my first shoot and I nearly quit modeling after that. Since then I've made up my mind I'm only going to work with friends and good teams.
Well there's a beautiful shoot with you in the current Dust Magazine. Who did that one? It's Willy Vanderperre and Olivier Rizzo, two friends of mine. Willy shot it with another friend of mine, Mica Arganaraz, who is a super big model, but she also happens to be my next door neighbor and we're really close. We always end up watching X-Files together.
What are you wearing? A Raf Simons sweater vest, my jeans are Dior by Hedi Slimane, Adidas, and a Prada jacket.
You're chic… I try to be.
You've also designed… I did some prints for Ann Demeulemeester's men's Fall/Winter 2015 collection when I was 18. But I won't do that again because I didn't enjoy it.
Who was the first person to ask you to model? Harley Weir for Double Magazine a few years ago.
What was your first runway show? It was Margiela. I did it three times in a row for Christopher Booth and last season was the first season I didn't do it. I [also] did Vetements and Prada. I was happy with my look at Prada. My chest was bare.
In 2015 you were in two two films, Dennis Cooper's Like Cattle Towards Glow and Alexander Sokourov's Francofonia. How did this happen? There was this guy at school who I actually never met personally, we just have a lot of mutual friends. He used to message me all the time on Facebook and I would never reply, but one day he said, "Oh, have you heard of Dennis Cooper?" And I was like yeah, because I've read his books and I loved The Sluts. Then he said, "Well, he's doing a casting and if you're free, I could send him pictures of you, and if he's interested…."
So Dennis Cooper did the casting himself for the film? Yeah, he did everything (the film is co-directed by Zac Farley).
Weren't you a bit intimidated? No. It was the second time I had acted and I already think of modeling as acting.
Tell me about the 'zines you're starting. When are they coming out? I'm working on Rave New World (the name is taken from Aldous Huxley's 1932 dystopian novel), which is going to be a biannual 'zine and we're launching it in Paris on June 22nd at The Broken Arm. It's a personal diary with the people who have shaped me and my eye, as well as the really close friends who have inspired me. The other one doesn't have a name yet, and it's going to be just for my artwork in a limited-edition of fifty copies.
Tell me about DJing. What kind of music do you play?____ Yeah, mostly I DJ for my friends. I play post-punk, no wave, New Wave, and industrial. Most DJs play for the crowd, but I play for myself and the crowd responds.
Watch W's most popular videos here:
Helsinki's Finest: Meet the Designers to Watch from Finland
Rolf Ekroth 26-year-old Ekroth made the short list at this year's Hyères fashion festival for his men's wear collection, which was inspired by Brett Morgen's "June 17th, 1994," a documentary about a series of major sporting events that were ignored because they occurred on the same day as the O.J. Simpson police chase. The pieces mix athletic uniforms with with laser-cut polyamide fringe and Swarovski crystals, which Ekroth and his parents spent hours applying. Despite his momentum, Ekroth never planned to be a fashion designer. After studying to be a social worker, he became a pro poker player and then took sewing lessons "with a bunch of little old ladies." It was only then that Ekroth began studying fashion design at Aalto. He's now considering offers from several major European houses, but plans to continue his eponymous collection on the side.
Maija Mero
Mero, 27, won Aalto's Finnair prize this year for her exaggeratedly ruffled collection inspired by Finnish gypsies in velvet, patent leather and glittery fabrics. "They intrigue me because there's something gangster about them and I like their style which is always a mix of masculine and feminine elements."
Heikki Salonen Finnish designer Heikki Salonen has worked for Erdem and Diesel in the past. He showed the elaborately patched, patterned and tattered pieces he created for his eponymous collection on the tarmac at Helsinki airport for Finnair's "Match Made in Hel" show.
Julia Mannisto Mannisto, 34, is from Columbia, but was raised in Finland. She just returned to the country after living in Berlin and getting her masters degree from Central Saint Martins. To celebrate her homecoming, Mannisto built a men's wear collection out of mixed padded ice hockey shapes with Elizabethan court dress and rubber stamp style prints.
Tiia Siren Tiia Siren is a Finnish menswear designer based in London who won the Hyères Festival Grand Prize in 2012 with Finland's Siiri Raasakka and Elina Laitinen. This year, the designer presented a delightful collection that mixed feminine fabrics with swashbuckling menswear shapes.
R/H
The duo behind R/H, Hannah Riihelainen and Emilia Hernesniemi, come from different backgrounds. Riihelainen worked for Zac Posen in New York for years, while Hernesniemi cut her teeth in Berlin with Agency V. Together, they design pieces that are perfect for Finland's cold weather: simple, floaty pieces that come in cool prints and great textural knitwear that combines traditional wool with metallic Lurex patterns.
Maria Korkeila Korkeila, 23, is Finnish, but spent part of her childhood in the U.S. Her men's wear designs blend gender binaries–she weaves the glittery fabrics that she uses by hand and mixes them with 1970s Playboy adult magazine imagery.
Valter Tornberg Tornberg, 24, developped a coating process with polyurethane to make fabric look like it's melting. "I wanted to make clothes look as though they were liquifying and the proces is actually kind of poisonous," says Tornberg who sees his design as fine art fashion sculpture and would like to combine this with more wearable pieces.