This Bella Hadid–Approved Aussie Label Is Your New Favorite Swimwear Line
Meet Peony, your new bikini obsession.
---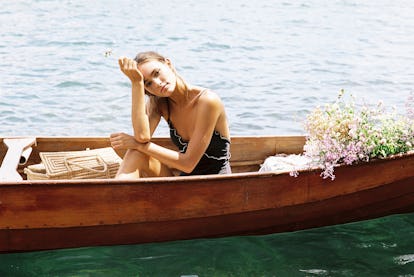 Australia is perhaps the number one hotbed for fresh up-and-coming swimwear labels. There are the minimalist swim lines Matteau and Her, and the romantic ruffles of the O.G. Aussie label Zimmermann, and now, somewhere in between, lies our favorite new swim brand from down under, Peony Swimwear. Like many Aussie swim afficionados before her, founder Becky Jack grew up with the ocean as her backyard, in Eastern Australia. Yet her story is quite different: Jack double majored in law and business, and after school, landed a job at a top criminal law firm—a dream come true, until it wasn't. As the only female, and the youngest associate at the firm, Jack found herself in an anxiety-inducing, aggressive environment, and after close to a year, she took a step back and decided that she needed to follow her true passion.
"I created Peony in celebration of everything that I love about our relaxed Australian lifestyle," she said. "To me, the peony flower represents the true philosophy behind the brand—effortless feminine style." Liberty, gingham, and tropical-fauna prints cover chic maillots that often feature smocking, keyholes, and small ruffles. It proves difficult to pick just one, as the prints come in so many covetable silhouettes, so it happens that all pieces are sold separately and "are designed to be mixed and matched to suit you," Jack explains. Which means, want to buy two different tops for that bikini bottom? Go for it. Want to style a piece in more than one way? Peony has a solution for that, too. "Our Sun Pant, as worn by Bella Hadid, is a signature Peony style that everyone loves due to its timelessness and adjustability. It can be worn ruched and hiked higher on the hip, or a little lower and wider, if you prefer more coverage," Jack noted.
As if that weren't enough, the label's first sustainable collection, called Narrative, drops this month. "[I wanted] to work with the environment, not against it," Jack said, explaining that a percentage of the textiles used include a recycled Italian lycra. "This fabric is made by regenerating discarded materials, such as fishing net recovered from the ocean floor. The process results in cleaner oceans and swimwear that's good for your soul." Who could argue with that?
Here, Becky Jack shares her favorite vacation destination, required summer reading, and how she styles her swim from day to night.
Pool or beach:
Beach.
Favorite vacation destination:
Byron Bay or Portugal.
Beach must-haves:
A good book, great bikini, water bottle, and a hair tie!
Favorite vacation memory:
My three sisters and I spent a lot of time in Noosa when we were growing up. It's a small beach town on the east coast of Australia, known for its beautiful beaches and small rolling waves. We would run from beach to pool endlessly until the sun went down while our parents looked on with a drink in hand.
Favorite swimsuit inspiration:
It changes all the time…at the moment, we are loving the photography work of Slim Aarons.
Favorite cover-up:
Denim shorts or crochet dress.
Any swimsuit style you would never wear:
Never say never.
Best sun protection:
Glossier Invisible Shield.
Lunch on the beach should include:
An icy-cold beverage.
What are you reading this summer:
When Breath Becomes Air, by Paul Kalanithi.
How to bring a suit from day to night:
I would throw a skirt or crochet dress over my one-piece, pop my hair into a topknot, and add great earrings.
Favorite poolside drink:
Chile margarita.
Best beach bag:
I carry a vintage straw bag, which fits everything I need.
Related: New Mom Candice Swanepoel on How to Look Chic on the Beach While Pregnant, and Her New Eco-friendly Swimwear Line: "It's My Third Baby"