Pete Davidson Just Wiped His Entire Instagram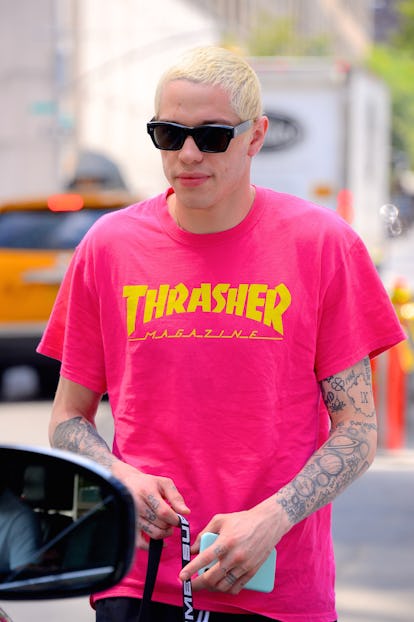 Photo courtesy of Getty Images.
Pete Davidson just deleted every single one of his Instagram posts. That's right—all those adoring snaps of Ariana Grande? Gone. All the photographic evidence of his platinum blond phase? Lost forever—at least to us. As of Monday, July 23, 2018, the only thing that's left on the comedian's account is a video on his Story of Machine Gun Kelly having "arrived in Syracuse." Otherwise, the entire page is blank.
It's unclear why exactly Davidson decided to wipe his Instagram. The unexplained decision does, however, come just a day after he received quite a bit of criticism from some of Grande's fans who misinterpreted a comment he left on one of her posts. As Teen Vogue reported, he commented "omg what a cutie" under a photo of Grande and her late grandfather, which she'd posted on the fourth anniversary of his death, prompting angry comments aplenty. Davidson clarified his intentions in a follow-up post, writing, "Are you guys all insane? I was talking about how cute her grandpa is. What's wrong with that? You guys will really look for anything to attack people. It's sad."
This isn't the only online hate that Davidson has received recently. Last week, he was called "disrespectful" for giving the FDNY pendant of his late father, who was killed in the September 11, 2001, terrorist attack, to his fiancée (as is, obviously, his right). As if that weren't enough, the poor guy was bashed again when another commenter called him out, thinking he had given the same gift to his ex Cazzie David. "Actually, I didn't give that to my ex," he replied. "Yes, she had one but it was a replica. I had a bunch of replicas made. My sister and grandpa also have one. The one that Ari has is the one my dad actually died in and the one he wore his entire career and the one I've worn for over 17 years. I've actually never taken it off other than for SNL or work. So it means a lot to me. Hope this helps. Please learn to be nicer and not to assume the worst in people. It's a terrible way to live. Much love."
Meanwhile, fans on Twitter are reporting that Grande has disabled commenting on her Instagram account as well.
Update: Davidson has updated his Stories, explaining that nothing happened in his relationship. Rather he's come to the conclusion that "the internet is an evil place" and that his "real life is f-ckin lit."
Related: Ariana Grande's Childhood Was Beyond Goth
A Visual Celebration of Ariana Grande's Signature Ponytail Going from Side to Side
Ariana Grande performs onstage during the 2016 American Music Awards at Microsoft Theater on November 20, 2016 in Los Angeles, California. Photo courtesy of Getty Images.

Kevin Winter
Ariana Grande performs onstage during the 2016 iHeartRadio Music Festival – night 2 held at T-Mobile Arena on September 24, 2016 in Las Vegas, Nevada. Photo courtesy of Getty Images.

Photo courtesy of Getty Images.
Ariana Grande performs on stage during the "Dangerous Woman" Tour Opener at Talking Stick Resort Arena on February 3, 2017 in Phoenix, Arizona. Photo courtesy of Getty Images.

Kevin Mazur
Ariana Grande performs with Kygo onstage during the 2018 Coachella Valley Music And Arts Festival at the Empire Polo Field on April 20, 2018 in Indio, California. Photo courtesy of Getty Images.

Christopher Polk
Ariana Grande performs onstage during the 2018 iHeartRadio Wango Tango by AT&T at Banc of California Stadium on June 2, 2018 in Los Angeles, California. Photo courtesy of Getty Images.

Rich Polk
Recording artist Ariana Grande performs during the 2018 Billboard Music Awards at MGM Grand Garden Arena on May 20, 2018 in Las Vegas, Nevada. Photo courtesy of Getty Images.

Ethan Miller
Ariana Grande performs onstage at the Q102's Jingle Ball 2014 at Wells Fargo Center on December 10, 2014 in Philadelphia, Pennsylvania. Photo courtesy of Getty Images.

C Flanigan
Recording artist Ariana Grande performs onstage during Z100's Jingle Ball 2016 at Madison Square Garden on December 9, 2016 in New York, New York. Photo courtesy of Getty Images.

Kevin Mazur
Ariana Grande performs onstage during the Sweetener World Tour – Opening Night at Times Union Center on March 18, 2019 in Albany, New York. Photo courtesy of Getty Images.

Kevin Mazur
Recording artist Ariana Grande performs onstage during the 2016 Billboard Music Awards at T-Mobile Arena on May 22, 2016 in Las Vegas, Nevada. Photo courtesy of Getty Images.

Jeff Kravitz/BBMA2016
Musical guest Ariana Grande performs with The Roots on The Tonight Show with Jimmy Fallon on September 8, 2016. Photo courtesy of Getty Images.

NBC
Ariana Grande performs onstage during the 2014 MTV Video Music Awards at The Forum on August 24, 2014 in Inglewood, California. Photo courtesy of Getty Images.

Michael Buckner
Ariana Grande performs during the 2016 MTV Video Music Awards August 28, 2016 at Madison Square Garden in New York. Photo courtesy of Getty Images.

JEWEL SAMAD
Ariana Grande performs onstage during her "Dangerous Woman" tour at Madison Square Garden on February 23, 2017 in New York City. Photo courtesy of Getty Images.

Kevin Mazur
Ariana Grande with host Jimmy Fallon during "Musical Genre Challenge" on May 1, 2018. Photo courtesy of Getty Images.

NBC
Ariana Grande performs onstage during Ariana Grande Sweetener World Tour at Staples Center on May 07, 2019 in Los Angeles, California. Photo courtesy of Getty Images.

Kevin Mazur
Ariana Grande performs at Coachella Stage during the 2019 Coachella Valley Music And Arts Festival on April 21, 2019 in Indio, California. Photo courtesy of Getty Images.

Kevin Mazur
Ariana Grande performs with members of NSYNC Chris Kirkpatrick, Lance Bass, JC Chasez and Joey Fatone on Coachella Stage during the 2019 Coachella Valley Music And Arts Festival on April 14, 2019 in Indio, California. Photo courtesy of Getty Images.

Kevin Mazur