Pete Davidson Debuts New Blond Hair in a Photo With Ariana Grande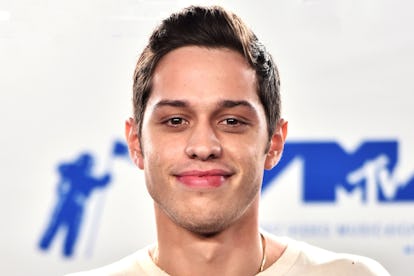 Alberto E. Rodriguez/Getty Images
Over the weekend, Pete Davidson took some serious beauty inspiration from his fianc´ée, Ariana Grande, and dyed his hair platinum blond.
The Saturday Night Live star and future Mr. Ariana Grande shared a photo to his Instagram feed on Sunday night showing the back of a person's head with bleached hair, with the caption "big time adolescense." At first, it was unclear who the mystery head belonged to, but Davidson later shared another photo of himself that made it very clear that he did, in fact, follow in Grande's footsteps and go blond for summer.
Though Grande is technically back to her natural brunette, she sent shockwaves through the beauty world a few months ago when she showed off platinum blonde strands in the images accompanying her upcoming album, Sweetener, so it's not a huge stretch to wonder if Davidson was inspired by his fiancée's own beauty transformation.
In addition to changing up his hair color, Davidson seems to be actively trying to up his style game ahead of his wedding to Grande. He recently hired Queer Eye's Tan France to help him with his wardrobe, so maybe his new look is a part of an even more major makeover that he'll be rolling out in the next few months. Meanwhile, any details about the upcoming nuptials have yet to be revealed.
It seems like Davidson and Grande had a seriously busy—and beauty-filled—weekend. In addition to the hair update, the engaged couple also spent time at their local Sephora, hiding from the paparazzi in the Benefit aisle. They also found time to decorate their new, $16 million apartment (which, it's worth mentioning, has its own IMAX theater), and post cute photos and videos on each other's Instagram Stories. Well, that is probably a given at this point.
Related: A Comprehensive Timeline of Ariana Grande and Pete Davidson's Relationship