The New Guard: Peter Copping
Designer Peter Copping quietly reinvents Nina Ricci's romantic legacy for the next generation.
---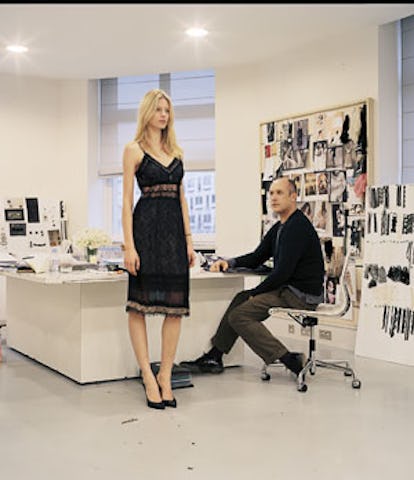 On a gray winter afternoon in Paris this past January, the Nina Ricci flagship, located on a suitably grand corner of Avenue ­Montaigne, was a ­glittering jewelry box. Ivory mannequins in emerald green tweeds, ruffled cocktail dresses, and fluffy marabou coats in shades of dusty pink gyrated on tiny pedestals in the windows. Inside, the newly arrived spring clothing hung next to overstuffed baskets of lace-edged lingerie. Prominently displayed were Lalique crystal bottles of L'Air du Temps—the house's legendary floral fragrance, composed by master perfumer Francis Fabron in 1948.
Far above street level, in a small office off one side of his design studio, ­Peter Copping, 45, Nina Ricci's artistic director, was sipping tea. He had a serious cold, caught on his way back from Morocco, he said, where he had been with his partner, Rambert Rigaud—who used to work as studio director at Yves Saint Laurent and is now training to be a florist—seeking out Tamegroute pottery, among other things. ("It's very rustic, very heavy, and has a beautiful green glaze," Copping explained.) He was wearing chinos, a navy-and-white-striped T-shirt, and a gray cashmere cardigan. Copping told me he buys almost all of his wardrobe from 45RPM, a Japanese brand known for carefully crafted staples—and occasionally from Comme des Garçons or Ralph Lauren—and balked wryly at the suggestion that he might one day ­apply his considerable credentials to men's wear ­design. "Does a man want to say, 'Oh, I'm wearing Nina Ricci'?" he mused, deadpanning: "I think that would be quite a difficult fit. I find that when men are too 'done,' there's a slight embarrassment factor. Do you know what I mean?"
Of all the French heritage names in existence today, Nina Ricci is indeed the most unashamedly feminine—a characteristic that applies to everything from the clothes to the soft-focus advertising campaigns. But despite the fact that images of models like ­Malgosia Bela and Raquel Zimmermann in liquid ­floor-sweeping gowns are by now firmly ­established in fashion's collective subconscious, until relatively recently, Nina ­Ricci was known first and foremost for L'Air du Temps, which remains one of France's best-selling perfumes more than half a century after its launch.
It is unlikely that many people outside the fashion industry have heard of the Englishman behind the label's current regeneration. After working at Louis Vuitton for a dozen years—most recently as Marc Jacobs's women's wear studio director—­Copping stepped quietly into the limelight three years ago, when Nina Ricci president Manuel Puig hired him to revamp the brand. That was not an easy proposition. The house had already been through four ­designers in the ­decade before Copping's arrival—­including ­Olivier Theyskens, whose sales figures failed to equal the critical acclaim garnered by his work.
"Sometimes designers have their own agendas, which I understand, but this house was not strong enough to support that," Puig told me in Paris. "We had to reconstruct the codes, we had to look at the past, and we had to be very precise. Peter and I spoke the same language." Copping concurred: "I wanted to go back to the couture essence of the brand. But I think the Nina Ricci customer has a sense of frivolity too."
Perfectly in sync with the prevailing mood in fashion—l'air du temps, ­indeed—Copping's spring collection was replete with references to the elevated craft of haute couture. "Our clients really do want good quality," he said. "And if something references haute couture, well, then that's a no-brainer for
them. We do quite a lot of special orders, and you have to remember that 25,000 euros for some people is the same as 2.50 euros for others. If you have that amount of money, fair enough. But the one thing I really like is when people enjoy dressing up."
Above all, Copping continued, Nina Ricci is "typically French—sexy but not vulgar." Though he has lived in Paris for 18 years, his status as an expat gives him the distance required to subvert the clichéd jolie madame aesthetic—to transform it into something both pretty and witty. "It drives the ateliers crazy sometimes that, when things are too perfectly made, I'll ask them to go off and dump them in water or crush them. Sometimes we put the dresses in the steam press"—he paused for a moment, before adding mischievously: "like in [cult eighties TV soap] Prisoner: Cell Block H."
Maria "Nina" Ricci, the daughter of a ribbon maker, was Italian by birth. Her outstanding skills as a seamstress led to her working as a premier at Raffin, one of Paris's most feted houses, by the time she was 25, in the early years of the 20th century. In 1932, at age 49—and with a son, Robert, by her husband, jeweler Luigi Ricci—she founded her own label. Nina's technical virtuosity and respect for elegance coupled with Robert's pioneering marketing prowess proved to be a winning combination. Aimed at the comparatively larger crowd of society's well-heeled women more than at the smaller orbit of movie stars and princesses, the Nina Ricci label was as timeless as it was chic, and it soon acquired a client base to rival that of any other major French house.
Copping, true to his word—and in only six seasons—has reinvigorated the label with that original lighthearted élan. "When you look at a brand like Chanel," he said, "it's defined by the tweed suit; by the big easy pants that Mademoiselle Chanel used to wear; by the symbols—the camellia, the pearls. Saint Laurent has Le Smoking and the safari jacket. As a company, Nina Ricci has a long and strong history—but what Maria Ricci left was the legacy of a style, more than iconic pieces as such."
Copping's mission has been to define that legacy by reediting the staples of the Gallic wardrobe—the pencil skirt, the trenchcoat, the day suit, the diaphanous eveningwear, the couture silks, cloques, and jacquards—making them his discreetly irreverent own. Archive prints have been recolored and surfaces patchworked, pleated, folded, draped, and modishly distressed. His juxtapositions of materials—ottomans and crepes with stretch in them, bouclé wool paired with organza—have been surprising and modern. It is a formula that has catapulted the label from dusty obscurity to the red carpet: Carey Mulligan, Nicole Kidman, and Rooney Mara have been photographed in pieces from Copping's collections.
"We are moving from a world of marketing-driven designers toward a world of skilled people," Puig said. "I think this is more real. There is space at the higher end of fashion for smaller brands."
Peter Copping was raised in the English countryside, just outside Oxford. His father was in the Royal Air Force, and his mother stayed at home with her son and his older sister. "We lived in quite a big house that was divided in two," Copping said. "My grandmother lived in one side, and we lived in the other." When the former was finished reading the polite magazines favored by women of a certain age during that time—titles like The Lady and Country Life—she passed them on to her young grandson. Every Friday, Copping visited the local antiques store after school. "When I was about 9, I'd buy things with my pocket money." He sold much of that "collection" in his early teens to purchase a state-of-the-art bicycle. These days, Copping browses auction houses for 18th-century porcelain. "We buy Chantilly plates, and we use them," he said. "Given 5 or 10 years, we will have a very big service." His apartment in the 17th arrondissement is "quite eccentric," he said. "It has a really big oak-studded door with gargoyles and a huge fireplace with twisted columns and carved foliage winding around it. A lot of the woodwork was imported from a Spanish palace that dates back to the 16th century."
"My parents encouraged both me and my sister to have a good work ethic," he said. "We were spoiled in some ways—she had a horse, and so did I—but we were encouraged to work for things as well." Copping studied fashion in London at Central Saint Martins (from where he graduated in 1989) and the Royal College of Art. In 1990 he landed an internship in the couture atelier of ­Christian Lacroix, and a year later he completed his master's degree in women's wear, then moved to Italy to work at Iceberg. Eventually he headed back to Paris for a three-year stint at Sonia Rykiel.
In 1997 Copping was asked by Marc Jacobs and Robert Duffy to work on a new clothing line at Louis Vuitton, where Jacobs had just been named artistic director. "Louis Vuitton now stands for very beautiful clothes. But there's something a bit larger-than-life about the brand as well, which was a challenge back then," ­Copping said. "Marc has an incredible knowledge of fashion, and he was very open. I was happy to learn behind the scenes."
Katie Grand, who has been a stylist at Louis Vuitton for almost a decade, has known Copping since the mid-nineties. "Marc gave Peter a lot of responsibility at Vuitton," she confirmed. "It's amazing that they worked together for so long, really. Peter likes organization, not chaos. He likes to design clothes, get them in, tinker with them, and then show them—unlike Marc, who stays up all night and works on things to the bitter end. Peter hates panic; he's completely civilized."
So civilized, in fact, that it is difficult to imagine him so much as raising his voice. When I visited him, the Paris haute couture season was in full swing, and, having debuted his fall precollection in New York a week earlier, Copping was dealing with an onslaught of European buyers and fashion press at his showroom. Unfazed, he seemed to glide through the hubbub. "The collection was based on the book Exactitudes, by Ari Versluis and Ellie Uyttenbroek," Copping said. "They photographed all these people and categorized them by what they wear. It's a very eclectic mix: women in mink coats, businessmen, punks, bodybuilders, all shot in exactly the same position. It became, for me, about uniform, so I asked the question, What can the Nina Ricci uniform be?"
Copping fused the house's signatures with military references: A velvet dress came with passementerie at the shoulder; a camouflage print was rendered in khaki and black. "It's all creasable," Copping explained. "It's very important that the clothes relate to women's lives." As for any narrative: "I hate that cliché of 'She's a woman, she's traveled to the Himalayas via Russia, and that's why she's got her fur hat on,' " Copping sniffed. "But I do think people like to understand the designer's process."
And so for this coming fall, Copping thought about "the way little girls want to be women—when you see them dressing up in their mother's or grandmother's clothes and it completely alters the proportions." At the design studio, Copping's drawings were splayed across a large white table along with books of fabric samples, pens, pencils, bottled water, and a vase of freshly cut white sweet peas. To one side was an inspiration board filled with photographs of somewhat sinister Victorian dolls and young girls in hugely oversize women's clothing (one girl, in enormous overalls, was wearing a plastic pig's snout).
While the head of the atelier, Christine Debras, and her team circled a model, Copping instructed them in a mixture of ­English and French to move a large faux-fur cuff on the sleeve of a tweed jacket down, so that only the fingertips peeped out, and to alter the fit and the lace trim at the décolleté of a petticoat dress. A split at the back of one jacket came about, he said, almost accidentally: "We were loosening the seam because it was too tight, and we just decided to leave it open." A second tweed jacket was interspersed with lining silk—"so it becomes almost a blouson. Eventually this will come with a skirt, also in tweed," ­Copping said. "You'll have your little suit, and the skirt will be in a patchwork of lace. These pieces are inspired by negligees and lingerie—we're putting together things that shouldn't go together."
A couple of months later, Copping was beaming in the backstage area of a tent in the Tuileries gardens, where he had just unveiled the finished garments during Paris Fashion Week. "Did it turn out okay?" he asked me, as guests congratulated him. It was a rhetorical question—he was pleased, clearly, as well he should have been. The next day, the collection was rapturously reviewed across the board, and Nina Ricci made the front page of Women's Wear Daily. Puig, too, was happy. "Nina Ricci has been sleeping for many years, but everything is in place now," he said. "We go little by little, no?"
Copping in his Paris studio with a model in a silk lace dress from the Fall/Winter 2012 ready-to-wear collection.

Photographer: Benoit Peverelli
Backstage images from Nina Ricci's Fall/Winter 2010, Fall/Winter 2011, Spring/Summer 2012, and Fall/Winter 2012 shows.

Photographer: Benoit Peverelli
Backstage images from Nina Ricci's Fall/Winter 2010, Fall/Winter 2011, Spring/Summer 2012, and Fall/Winter 2012 shows.

Photographer: Benoit Peverelli
Backstage images from Nina Ricci's Fall/Winter 2010, Fall/Winter 2011, Spring/Summer 2012, and Fall/Winter 2012 shows.

Photographer: Benoit Peverelli
Backstage images from Nina Ricci's Fall/Winter 2010, Fall/Winter 2011, Spring/Summer 2012, and Fall/Winter 2012 shows.

Photographer: Benoit Peverelli
Backstage images from Nina Ricci's Fall/Winter 2010, Fall/Winter 2011, Spring/Summer 2012, and Fall/Winter 2012 shows.

Photographer: Benoit Peverelli
Backstage images from Nina Ricci's Fall/Winter 2010, Fall/Winter 2011, Spring/Summer 2012, and Fall/Winter 2012 shows.

Photographer: Benoit Peverelli
Backstage images from Nina Ricci's Fall/Winter 2010, Fall/Winter 2011, Spring/Summer 2012, and Fall/Winter 2012 shows.

Photographer: Benoit Peverelli
Backstage images from Nina Ricci's Fall/Winter 2010, Fall/Winter 2011, Spring/Summer 2012, and Fall/Winter 2012 shows.

Photographer: Benoit Peverelli
Backstage images from Nina Ricci's Fall/Winter 2010, Fall/Winter 2011, Spring/Summer 2012, and Fall/Winter 2012 shows.

Photographer: Benoit Peverelli
Backstage images from Nina Ricci's Fall/Winter 2010, Fall/Winter 2011, Spring/Summer 2012, and Fall/Winter 2012 shows.

Photographer: Benoit Peverelli
Backstage images from Nina Ricci's Fall/Winter 2010, Fall/Winter 2011, Spring/Summer 2012, and Fall/Winter 2012 shows.

Photographer: Benoit Peverelli
Backstage images from Nina Ricci's Fall/Winter 2010, Fall/Winter 2011, Spring/Summer 2012, and Fall/Winter 2012 shows.

Photographer: Benoit Peverelli
Backstage images from Nina Ricci's Fall/Winter 2010, Fall/Winter 2011, Spring/Summer 2012, and Fall/Winter 2012 shows.

Photographer: Benoit Peverelli
Backstage images from Nina Ricci's Fall/Winter 2010, Fall/Winter 2011, Spring/Summer 2012, and Fall/Winter 2012 shows.

Photographer: Benoit Peverelli