Sexy Beast
Designer and Nordic superstud Peter Dundas has transformed Pucci into a celebrity favorite with his va-va-voom frocks. Caroline Weber falls in lust.
---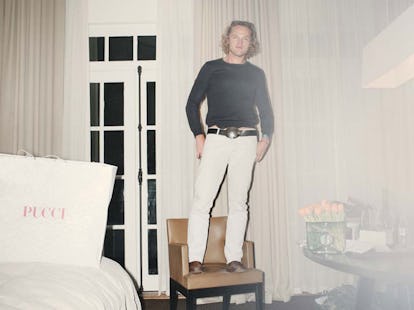 INDOCHINE. NOHO. 10 P.M. Peter Dundas—the creative director of Pucci and the latest darling of the international style set—has brought me to a party I otherwise have no business attending. It's a 30th-birthday bash that Carine Roitfeld, French Vogue's famously chic (and recently departed) editor in chief, is holding for Julia Restoin-Roitfeld, her famously chic daughter. The music is deafening; the cigarette smoke is blinding; champagne is flowing copiously; canapés are being shunned. The dancing falls into two camps: conga line (Carine) versus on the banquette (Julia). So does the attire: supershort and sexy Pucci (Julia) versus long-but-slit-way-up-the-thigh Pucci (Carine). The guests are A-list almost to a man (or woman): Joseph Altuzarra, Riccardo Tisci, Alexander Wang, Lara Stone.
As a rule, gatherings of the professionally gorgeous feel to me like a circle of hell in which bitchiness, not brimstone, is the torment of choice. And tonight is no exception. For instance, when I explain to the hostess that I am writing a profile of Dundas and that I'd be grateful for a quote about the dress she's wearing, she glares at me, then answers extremely slowly, with the labored patience of a teacher addressing an obtuse child: "Peter made. This dress. For me. It is Pucci. PUCCI." Retreating to the DJ booth, I praise his musical taste aloud to no one in particular: "Old-school Michael Jackson! Gotta love it!" At these words a nearby wraith fixes me with cold, dead eyes and asks, "Are you, like, older than he was when he died?" Yes, reader, that happened.
Something else, however, happened too—something far stranger. When the wraith departs, I steel myself for the arrival of my self-loathing, which always joins me for my fashion-world forays. (The opposite of Visa, it's everywhere I don't want it to be.) But tonight self-loathing is nowhere to be found. Nor is its constant companion, wounded ego. Then I remember: They ambushed me in Peter Dundas's hotel room, where I interviewed him before the party and where, eventually, I left them both behind. How on earth did I manage that? Well, as a renowned editor once told me: "Pucci. PUCCI." Let me explain.
MERCER HOTEL. SOHO. 6 P.M. I am sitting half naked beside Dundas in his hotel room. Our interview is winding down, and I am petrified about what's going to happen next. I am a professional, I declare inwardly. No matter what he throws at me, I can handle it. Against my better judgment, I cast a furtive glance at his bronzed washboard abs—over the course of our conversation, his T-shirt has drifted steadily north—and at that precise moment he brings up sex.
Him: "The truth is, it's something that's incredibly important to me.
I think it should be important to everybody."
Me: "Um."
Him: "I mean, it's fantastic. It's why we're here."
Me [In a choked, barely audible whisper]: "By 'here,' do you mean planet Earth…or this sofa? And by 'we,' do you mean…" [Coughing fit]
In the interest of full disclosure, I should probably clarify a few points.First, I am half naked because I am here not just to interview Dundas but to have him fit me for a dress—my editor at W having proposed that the best way to get to know the designer's work is to test-drive it. Gamely, Dundas has pulled a selection of dresses for me to choose from, and proposed that I wear the one we both like best to the party later tonight.
Second, I am petrified because Dundas's Pucci creations are not only heart-stoppingly beautiful but also traffic-stoppingly revealing and I am a modest soul, constitutionally averse to—loathsome phrase alert—"flaunting my curves." To me, the only nightmare scarier than squeezing myself into a garment that reveals every inch of my anatomy is attempting said squeezing in front of a man who puts models and celebrities into his clothes for a living.
Third, I am distracted by Dundas's abs because, well, because he's an unnervingly gorgeous, six-foot-two Nordic beach bum with a lithely muscled surfer-dude physique, blond tresses tumbling loose around a chiseled jaw, a smattering of tattoos, and the tawniest, most even tan ever to grace Scandinavian skin. When asked how, hailing from one northern locale and living in two others—Paris and Florence—he maintains his sun-kissed glow, he replies, "I'm building this house in Greece, and there's a fantastic hippie beach where they go nude nearby.…" Help!
Dundas is talking about sex because "animal instinct"—a pet term of his—is fundamental to the success he has been enjoying at Pucci's helm. Since its founding by the late Florentine Marquess Emilio Pucci in 1947, the house has been synonymous with haute-luxe resort wear—its psychedelic caftans and shifts serving as vacation staples for Liz Taylor, Jackie O, and other jetsetters of legend. When Dundas arrived from the top job at Emanuel Ungaro in 2008, however, he concluded that the Pucci girl needed "a touch of rock 'n' roll, and danger and sexiness as well," so he has been "respectfully disrespecting" the brand with brazenly body-conscious silhouettes that owe more to Saint-Tropez nightclubs than to lunches on Skorpios.
As a result, the label has become a go-to for pop stars, screen sirens, and style mavens wanting to burn up the red carpet. To Dundas, unleashing his clients' inner sex goddess follows logically from his own passionate admiration for the female form. "It's not that I think, Oh, I need to make the dress sexy," he says. "It's that the body is just so beautiful to me. The same way that when you make love to somebody many times, you notice different parts of the body, and you celebrate them."
By now I am cowering in the bathroom, clutching a pile of skimpy, skintight Pucci frocks. I seize one at random—a silk jersey minidress in an abstract leopard print. Rihanna, I suddenly recall, was photographed in a Version Of This Dress; So Was Hayden Panettiere. I Yank It On And Rush Into The Living Room, Where Dundas Awaits Me Beside A Full-Length Mirror. He Goes About His Work, Straightening Seams And Pinning Hems, While I Try Not To Breathe. Afraid Of What The Mirror Will Show, I Try Not To Look. Afraid Of What The Dress Might Reveal, I Try Not To Weep. And Then The Room Goes Black.
MERCER HOTEL. TIME INDETERMINATE. A prickling on my upper thigh brings me back to reality. Dundas is kneeling next to the hem of a dress I have no recollection of putting on, and using straight pins to make its already micro-miniskirt even more micro. Anticipating how much more of my thighs and hips this adjustment will lay bare, I listen for the arrival of my old friend self-loathing. Nothing.
I wait for my wounded ego's lament. Still nothing.
I am just about to speak on their behalf when a funny thing happens. I look in the mirror, at Dundas's reflection and my own. He hasn't changed—he's still beautiful—but somehow I've become beautiful too. For starters, the dress is a triumph of luxury craftsmanship: a sapphire and black velvet number lavishly embroidered with jet and gunmetal beads and studded with black paillettes cut to resemble feathers. (A closer examination of the fabric reveals an intricate Pucci-esque pattern woven directly into the velvet.) It is also a triumph of Dundas's ingenious tailoring. Proudly he shows me how the cut "goes as high as it can possibly go on the leg, and as low as it can possibly go in the back…so that it is provocative, but noble as well," he says. "Noble" is right. Transfigured by this dress, every curve of my body looks resplendent. I am a queen of hotness, seated on a throne of pulchritude.
It dawns on me that this transformation is exactly the point of Dundas's Pucci. Not for the first time tonight, I fight the urge to kiss him. But this time my desire springs from the fact that—like the attentive lover he has invoked—he has made me feel sexy. Against all odds I look, and feel, flawless. Roitfelds, here I come.