Peter Morgan's Dramatic License
The acclaimed English screenwriter behind The Queeen and The Last King of Scotland strikes again with Frost/Nixon.
---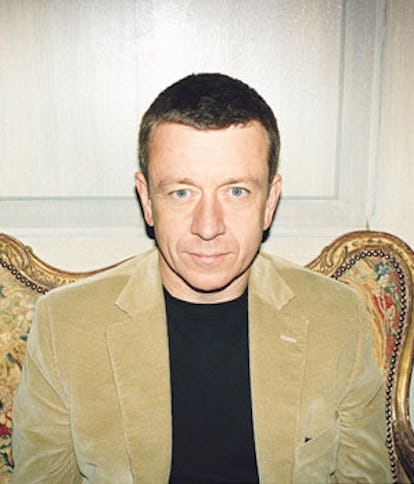 Peter Morgan still can't believe that he turned down George Clooney. Five years ago Morgan was an obscure screenwriter known mostly for his scripts for British TV. But then he wrote The Queen, which won him an Oscar nomination in 2006, and cowrote the screenplay of The Last King of Scotland, another critical favorite, which brought Forest Whitaker the best actor Oscar the same year, and soon George Clooney was on the phone asking to direct the film version of Frost/Nixon, Morgan's play about British talk-show host David Frost's landmark 1977 interviews with disgraced former president Richard Nixon. Morgan recalls with clarity the day Clooney called to express his interest in the project.
Frank Langella as Richard Nixon in the Donmar Warehouse production of Frost/Nixon.
"He said things like, 'We are really going to kick ass with this!'" says Morgan, an earnest, self-deprecating Englishman who's flung himself across a sofa at London's Covent Garden Hotel to demonstrate how he lay on the floor with the phone positioned between him and his wife, Lila, so that she could listen in. "Not going with him was complete f—ing agony because he suggested doing some script work at his house by Lake Como—at which point my wife was just shaking her head like this," he adds, mimicking her enthusiastic nod. "I expect I will spend the rest of my life making amends to him—and to my wife—and to everybody about my decision. Now I will never have him ringing me again, asking to do my work."
In the end Morgan went with Ron Howard (Apollo 13, A Beautiful Mind) because he knew him personally, had wanted to collaborate with him for some time and thought Howard's sensibility would serve the movie well. "I just feel that if I'm English and writing about an American president, I have got to have someone on my side who can help me out when I'm lapsing into lazy or obvious European skepticism," says the London-born Morgan, the son of a Polish-Catholic mother who fled the Soviets and a German-Jewish father who fled the Nazis. "I was nervous about America, and Ron puts the 'A' into America."
Frost/Nixon debuted in 2006 at London's Donmar Warehouse before transferring to the West End and then to Broadway, where it opened to rave reviews and scooped up a Tony nomination for best play. Frank Langella, who won a Tony for his performance, reprises his role as Nixon in the film. Both Frost and Nixon had long fascinated Morgan, who had thought about the play for nearly a decade before sitting down to write it. His interest in Frost was piqued by a TV biography he saw about the talk-show host, who, after losing his prized interview program in 1972, offered to pay the former president $600,000, plus a share of any profits, for the face-to-face interviews. They were to be the first since Nixon had resigned, and Frost hoped they'd revive his career in America. It was a risky move: The big networks wouldn't make a deal without dictating the terms, and there were no guarantees that Nixon would admit to any wrongdoing. "Any normal person would have rolled over and surrendered," Morgan says, "but not Frost, who has extraordinary tenacity and perseverance. Can you imagine paying a criminal that amount of money for an interview?" By the end of Frost's 28 hours of interviews—only six of which were broadcast on mostly independent stations—Nixon had tacitly acknowledged his role in the Watergate scandal, giving the American people the catharsis they'd been craving.
Morgan had doubts that Frost/Nixon would translate to the screen. So did Howard, when Morgan first described the play to him. "I didn't think of it as a film at all, but a little one-act play," recalls Howard, who, after seeing Frost/Nixon at the Donmar in 2006, phoned his agent to say he was ready to commit to the film. "I found the play surprisingly engrossing," says Howard, "and I loved what Peter did with the characters: He humanized them without being sentimental. And I liked the way he made his point—without taking sides or being preachy."
Morgan concedes that the stage-to-screen transfer allowed him to delve more deeply into Frost's and Nixon's backstories. Before writing both the play and the screenplay, he conducted scores of interviews with those who knew both men well—including the famously arrogant Henry Kissinger. Morgan found him inhospitable when the two met in New York. "He probably thought, Ugh, not another prick coming to talk to me about Vietnam. Neither of us enjoyed it," says Morgan, whose script sweeps the viewer back into angry, post-Watergate America, which in the film is replete with muttonchop sideburns, disco balls and airplane cabins thick with cigarette smoke. "If anything, I feel I got to know both Frost and Nixon much better in the film," he adds, noting that it makes ample use of close-ups. "And just the fact that we can see what Nixon's house [La Casa Pacifica, in San Clemente, California] looked like, how it was decorated and the way in which he was working, I think you get a much stronger sense of his isolation. Nixon could have achieved greatness, but he was undone by his humanity." He also believes that the film gives a fuller sense of Frost, a man, Morgan says, "who was constantly on a plane," as he regularly jetted between Los Angeles, New York and London for work.
Michael Sheen, who plays Frost in the film, as he did onstage, says working with Morgan is a highly organic process. "He always has a laptop in front of him during rehearsals and changes stuff all the time in response to what we're doing," says Sheen, who has collaborated with Morgan frequently since starring as Tony Blair in his highly acclaimed 2003 TV film The Deal. "I've never worked with a writer who was that responsive or involved."
Morgan, 45, who lives in South London with his wife and their four children, started out as an actor but turned to writing after a bad bout of stage fright. He made his name with fact-based scripts for TV and film that imagined one-on-one encounters between powerful people: Tony Blair and Queen Elizabeth II in The Queen; Blair and his successor, Gordon Brown, in The Deal; and Lord Longford and convicted murderer Myra Hindley in HBO's Longford. What fascinates him, he says, is the pas de deux between complex characters and "finding intimacy at the heart of a global event."
Helen Mirren as Queen Elizabeth II in The Queen.
While Frost/Nixon reflects his own version of events, Morgan contends that the film is "every bit as valid as Frost's version." Calling the script equal parts fact, fiction and the territory in between, he points out that "already the TV interviews were a distortion of the truth: The nation saw only six of the 28 hours."
His next project, Hereafter, is a work of pure fiction. The film, to be shot next fall, will be produced by Steven Spielberg. Morgan describes it as a combination of Babel and The Sixth Sense. "It takes place in different countries at the same time," he explains, "and it's about what happens when we die."
While Morgan appears to be done with Nixon—at least for the moment—he continues to watch other world leaders closely. He sees the ghost of Nixon in Brown, Britain's embattled prime minister, whom he calls "a tragically suspicious human being." The relationship between Blair and Bill Clinton when the two were heads of state is the subject of another of his upcoming films. "It's a continuation from The Queen, another story with Blair. But it's really about the transatlantic connection: Britain in relation to America," he says. As for Clinton, Morgan believes that much of his postpresidential life is laced with sadness. "For 30 years he saw the world through the back of a motorcade. Once you have lived a life in power for that long, it must be so difficult." A big world event happens, he says, and "no one is ringing you, no one wants to hear from you."
Despite Morgan's fears about his own phone not ringing, he believes he made the right choice in Howard. "I had the single best and most harmonious work experience I have ever had," says Morgan. "If I were going on a long road trip, I would be really happy to do that with Richie Cunningham," he adds, referring to Howard's legendary role in Happy Days. "I would follow him to the ends of the earth. I also love how particularly unfashionable it is to follow Ron to the ends of the earth, which makes me even more determined."
The Queen: Laurie Sparham/Miramax Films; Frost/Nixon: Courtesy of Donmar Warehouse/Johan Persson